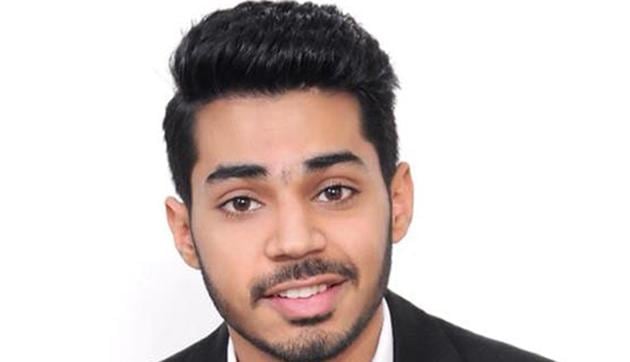 Chandigarh school dropout Trishneet Arora makes it to Forbes' U-30 list
Arora is cyber security expert, an author and the founder and CEO of TAC Security -- a Cyber-Security company based in Mohali.
UPDATED ON APR 03, 2018 09:46 PM IST
A school dropout from Chandigarh who is now a cyber security expert has made it to the Forbes '30 under 30' Asia 2018 list. Trishneet Arora, 25, made his way to the Enterprise Technology category of the list "which is packed with innovators and disruptors who are reshaping their industries and changing Asia for the better," a spokesperson for the young entrepreneur said here on Tuesday.
Arora is cyber security expert, an author and the founder and chief executive officer (CEO) of TAC Security — a cyber-security company based in Mohali, adjoining Chandigarh. It performs vulnerability assessment and penetration testing for corporates, identifying weaknesses in their cyber security.
"In 2017, Arora was listed among the 50 Most Influential Young Indians by GQ Magazine. He has received funding from investor Vijay Kedia and support from former vice-president of IBM, William May," the spokesperson said.
Badminton player PV Sindhu from India is part of the Forbes Asia list under a different category.
According to a 2017 report about him in Forbes India magazine, "Arora's CV reads far from perfect". It says that when he failed in Class 8, "he dashed almost all hopes of a secure future". Then, he signed up for distance education but failed again in Class 12. "I was never interested in studies. I was always a backbencher," Arora was quoted as saying, "As a child, I did all the things I was not supposed to do and kept my parents on their toes."
One of the youngest 'ethical hackers' in the country, Arora was just 19 when he started TAC Security in 2013, the report said. About the connotation of the word 'hack', Arora described it as an art and said, "There is no doubt that it also means that a person with the right skills can even hack into any bank and get millions of dollars but, remember, the next moment, he could also be behind bars. It depends on what he wants to nurture."
The report says TAC Security counts among its clients Reliance Industries, Amul, Avon Cycles, Ralco Tyres and government organisations, including the Central Bureau of Investigation, Punjab Police and Gujarat Police.
Arora said he discovered he had an instinct for technology quite early, recalling having been reprimanded as a child by parents for taking out wires of a computer and playing with them. "I was all of eight then. I dismantled my father's computer and could not fix it," he told the Forbes reporter. "When my father took the computer to a mechanic, I accompanied him and observed the work. The computer was fixed in about 15 minutes."
This fascinated him and pushed him towards making an effort to understand hardware and software. "Hacking is a skill that I acquired on my own," he said. He first made an attempt to hack into his father's computer in 2007. "The success then prompted me to take up hacking ethically later." He wrote a book, The Hacking Era, published in 2013.
Though he knew he could make a profession out of hacking, he didn't imagine he would become a first-generation entrepreneur—his father is a tax consultant and mother, a homemaker. The report further said that growing focus on digitisation and organisations reaching out to 'ethical hackers' to build resilient defence systems against cyberattacks underscored the potential of this business to Arora.
"Going forward, the demand for such services will only increase. After all, prevention is better than cure," Arora said, adding "As per industry data, India needs at least 1,000 cyber security startups by 2020."
(with IANS inputs)
Close