CM Badal declares 2015-16 as the 'year of development' in state
Punjab chief minister Parkash Singh Badal, on Sunday, declared 2015-16 as the 'year of development' in the state.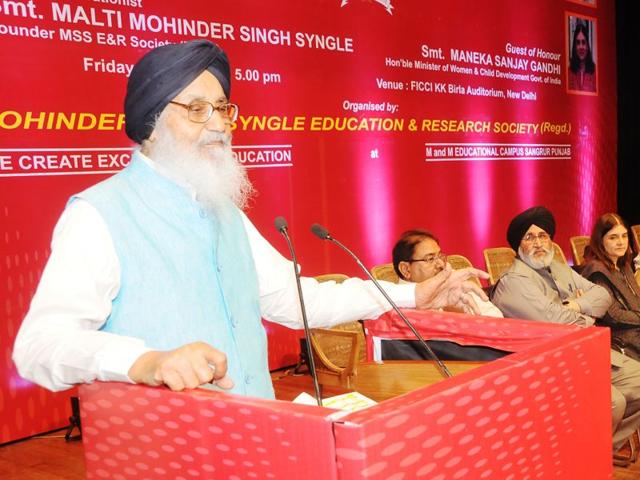 Updated on May 31, 2015 06:18 PM IST
Punjab chief minister Parkash Singh Badal, on Sunday, declared 2015-16 as the 'year of development' in the state.
The chief minister, who is on a two-day tour of the Dhuri constituency for sangat darshan-cum-thanksgiving programme after the by assembly bypoll, took the opportunity to review the pace and progress of development projects under execution in the constituency and use of grants by panchayats in different villages.
Badal inspected records pertaining to the utilisation of funds and grants, which he had disbursed before the bypoll to the sarpanches. He gave additional Rs 20 lakh for sanitation, sewerage and drainage works in the villages. He thanked voters for the huge lead given to Gobind Singh Longowal in the election.
Addressing the people, Badal said that no chief minister had so often visited a constituency after a bypoll for thanksgiving, as he had done. "When I make a promise, I keep it, and do not break it. That is why I'm here amidst you to discuss your problems as a family head."
While interacting with mediapersons, Badal said that the state's all-round development was the main priority of the SAD-BJP government, adding, projects in rural and urban areas would soon see the light of the day.
He said that during this year, roads, streetlight, drinking water and sewage system in all the cities would be completed and the government would also provide safe drinking water and toilets in rural areas.
Regarding employment to the youth, the CM said, "Our government will open skill development centres in the state, which will help the youth to become self- employed like in other countries." At present, only 12% of youth are self-employed in India, as compared to Japan, where more than 95% of people are self-employed.
Replying to a question on the observance of 'anti-tobacco day' (June 31) under the auspices of the World Health Organisation, Badal said our government's target was to make Punjab free of all kinds of drugs. The state government was running a campaign against the drug menace and opening de-addiction centres, he added.
Regarding financial assistance to the state by the Centre, he said, "The Modi government always rescued the state in difficult times. The Central government has also increased the share of state taxes from the central kitty from 32% to 42%."
The chief minister was accompanied by finance minister Parminder Singh Dhindsa, MLAs Gobind Singh Longowal, Iqbal Singh Jhoonda, and Manpreet Singh Ayali. On the first leg of his two-day tour, Badal visited nine villages today. Later, he also visited the fish farm at Sangrur.
Close Story
Personalise your news feed. Follow trending topics