High and dry in Mohali: A dry summer in store
Hindustan Times, Mohali |
Jatinder Tur
Apr 19, 2018 02:36 PM IST
Residents of the city, where water tariff varies from one area to the other, have already started making a beeline for tankers as the supply has come down.
It isn't easy for Ajay Rai, a resident of Adarsh Nagar in Nayagaon, to ensure a smooth flow of water to his house every day. He fumes that in the past three years or so, he has spent almost Rs 40,000 to cater to the routine water needs of his family of four.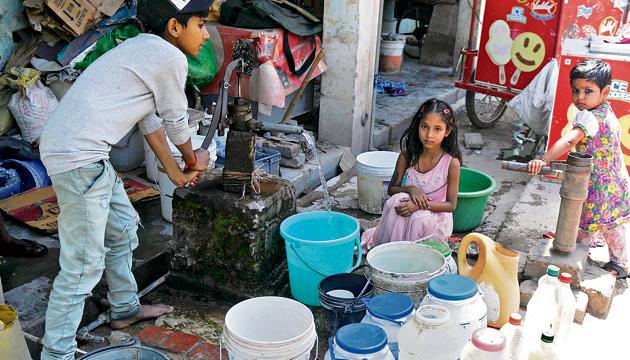 "Water tankers are a common site in this locality," gripes Rai, adding that even though the Municipal Corporation has started a helpline for the residents of the municipality to relieve them of the drinking water crisis, his complaints have never been redressed. Kamal Rani, another resident, grouses that for a significant chunk of the year, the residents have to survive on private water tankers and packaged drinking water bottles as the local body fails to provide adequate clean drinking water.
Low pressure a problem
Phase 9 of Mohali is also perpetually in the throes of a water crisis, especially during the summer. Col Satwant Singh Gill (retd), a resident of House No.503, Phase 9, complains that their problem is twofold. "We not only get less water as compared to other phases of Mohali, the water pressure here is so low that those staying on the second and third floors are left high and dry." Gill, who settled here in the 1990s, attributes the area's water woes to the cricket stadium and a number of other institutes in the neighbourhood, alleging that the lion's share of water allocated to Phase 9 is actually given to these institutes.
Kuldeep Kaur Kang, councillor of Phase 4, admits that the problem of low water pressure haunts the residents. "We get water at an adequate pressure for only two hours in a day," she laments. MC officials said they receive a slew of complaints about low water pressure from residents of Phase 4, 5 and 11, especially from people living on the first and second floors. Tannupreet, a resident of Sector 69, said most of the times the authorities blame the low water supply or pressure on out-of-order tubewells.
Pointing out another problem, Gurmeet Singh, a resident of Sector 67, claimed that the authorities have no standby arrangements to ensure smooth supply in case of power breakdown or a technical snag in tubewells.
Also read | 24/7 water supply to remain a pipe dream in Chandigarh
Sources of water
Mohali draws water from three agencies – Department of Water Supply and Sanitation, the Municipal Corporation, and Greater Mohali Area Development Authority (GMADA). Giving a breakup of the supply, Anil Kumar, executive engineer, water supply and sanitation, said, "The Department of Water Supply and Sanitation gets 10 MGD (millions of gallons per day) from the Kajauli waterworks. This canal water is supplied to Phases 1-11, three satellite villages and Industrial Phase 1-5, 7 and Sectors 70 and 71. In addition, we get 3 MGDs from tubewells and 1 MGD from the MC."
GMADA executive engineer Vasudev Anand said 48 tubewells dug up by the authority cater to the requirements of Sectors 65 to 69, 76 to 80, Aero City and Eco City.
The authority, he said, is in the process of augmenting its supply by replacing the old tubewells with new ones.
Even though all the authorities maintained that Mohali is getting enough water supply to meet its demand, experts on the ground say it suffers a shortfall of 15 to 17 MGD. Besides, the water pressure too is low. Claiming that the supply is more than the per capita demand, Harpeet Singh, SDO, MC, blamed the missing gallons on water leakage. "We lose a lot of water when damaged pipelines are not repaired on time," he groused.
Executive engineer Anil Kumar shared that there is a heavy wastage of water in areas exempted from paying water tariff. "This not only reduces the water share of other residents but also contributes to the problem of low water pressure," he said.
"Exciting news! Hindustan Times is now on WhatsApp Channels
Subscribe today by clicking the link and stay updated with the latest news!"
Click here!