24/7 water supply to remain a pipe dream in Chandigarh
Apr 18, 2018 01:01 PM IST
Dry days ahead: With the two new phases of waterworks delayed by another two months, the city is likely to suffer a thirsty summer.
It was in February that Mayor Davesh Moudgil declared that the city would not face any water scarcity this summer. He was pitching his hopes on the completion of the Phase five and six of Kajauli waterworks by April 30, which would have given the city an additional bounty of 29 million gallons of water per day But with this work getting delayed by two months, residents will once again see a dry summer.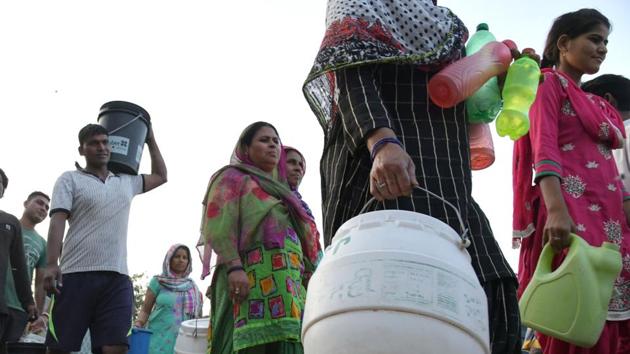 Chandigarh is already getting 58 MGD from the first four phases through the Kajauli storage facility that draws water from the Bhakra mainline. Now a pumping station is being set up at Jandpur village near the current facility in Kajauli to boost water supply for the Phase five and six lines.
However, the engineering work on the two phases, which is being manned by the Chandigarh Municipal Corporation along with various agencies of the Punjab government, is yet to be finished.
A senior official of the MC engineering department, who sought anonymity, said this work will take anywhere between three weeks and three months since the entire system has to undergo multiple tests before it is declared fit to supply water. "Operational delays are frequent in such projects. Sometimes there are delays on part of contractors besides lack of inter-departmental co-ordination," he added.
Claiming that there was no slackening on their part, MC Commissioner Jitender Yadav said two junior engineers are permanently stationed on the project site under the supervision of senior officials. "We are trying our best to finish the work on time while asking our counterparts to do the same," he said.
Pilot in manimajra
MC is confident of meeting the peak demand after the new lines get commissioned. But 2 4X7 supply won't be possible in the near future, says MC chief engineer Manoj Bansal.
He said with the commissioning of new lines, the city will have the advantage of a huge canal-based water resource. "The infrastructure will also be upgraded with new overhead water reservoir and new lines, as part of the smart city project."
He said in the first phase, the heavily populated Manimajra block will be given round-the-clock supply, for which a detailed project report is currently being prepared. "It will be followed by a tendering process and execution," he said.
While Bansal did not share the time it will take to provide 24X7 supply to the entire city, insiders say the project may take two to three years. It's the execution of the Manimajra pilot project, which will pave the way for non-stop supply in other areas.
The North-South divide
One of the peculiar problems of water distribution in Chandigarh is that water supply in northern sectors (1-30), many of which are home to VIPs and the city's elite, remains comfortable, while other half suffers a huge shortage of water.
Vijay Premi, executive engineer in charge of distribution, attributes this disparity to the densely populated southern sectors and the sparsely peopled northern sectors. But he assures that the entire system is up for an upgrade.
Lines will be upgraded under the smart city project. Consumption in northern sectors too is coming down. Earlier, potable water was being used for gardening. "Now we have laid tertiary water lines in all these sectors, and it is mandatory for people to take that connection," he said.
Who will plug the leaks ?
But while demanding additional water supply, the planners are failing to focus on plugging the leakage of water in UT, which stands at 26%, 11% higher than the national average of 15%.
If plugged, this additional water could help in lowering the present shortfall of 30 MGD.
Most of the wastage takes place due to leaky pipes, illegal connections, free taps at colonies and unmetered water supply.
SK Khosla, secretary of local NGO Chetna Manch, warns that the shortage of water will continue until water losses are not plugged. He said often hydrants, water pipes/lines leak for days together and no one bothers. "Earlier, MC office had two field officers whose only job was to find out leakages. I wonder whether such a system still exists in MC," said Khosla. Decreasing losses is also a focus of the smart city project.
In the beginning
When the city was set up, Chandigarh residents were supplied water from tubewells. It was in 1981 that the first phase of bringing canal water to Chandigarh was commissioned, and Kajauli village in Chamkaur Sahib tehsil of Rupnagar district was selected for storage and pumping facility. Three more phases were commissioned in a phased manner thereafter with Mohali and Panchkula also getting a share in it. At present, Chandigarh gets 58 MGD water from four phases. Two more phases will give it 29 MGD more water.