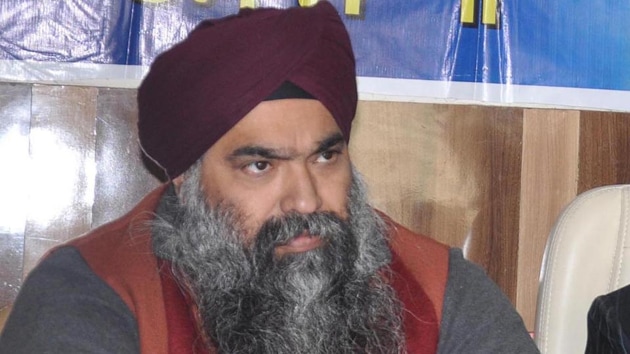 Inderpreet Chadha suicide: WWICS owner BS Sandhu's son Davinder Sandhu, another accused get bail
Sandhu and Ghuman were among 11 persons who were in Amritsar jail for their alleged role in abetting the suicide of Inderpreet Singh Chadha
Hindustan Times, Amritsar | By HT Correspondent
UPDATED ON APR 05, 2018 09:00 AM IST
The district and session court granted bail to Mohali-based immigration firm WWICS owner Col BS Sandhu's (retd) son Davinder Sandhu and Kay Ghuman on Wednesday.
Sandhu and Ghuman were among 11 persons who were in Amritsar jail for their alleged role in abetting the suicide of former vice-president of Chief Khalsa Diwan (CKD) Inderpreet Singh Chadha, who committed suicide by shooting himself in his car on Ajnala Road on January 3.
Inderpreet was reportedly upset over the controversy that erupted after a video showing his father — former chief of CKD Charanjit Singh Chadha — in an objectionable position with a woman principal.
Davinder Sandhu and Kay Ghuman's counsel advocate Puneet Bali confirmed that Amritsar district and session judge Karamjit Singh granted bail to the duo.
Another lawyer Gautam Majithia, familiar with the development, said the bail application of Sandhu, Ghuman and Surjit Singh were filed in court. "However, court has rejected bail plea of Surjit," he added.
Bali said in the court that the accused could not be booked under Section 306 (abetment of suicide) of the Indian Penal Code (IPC). He said the name of his two clients — Sandhu and Ghuman — were not in the suicide notes, purportedly written by Inderpreet before allegedly committing suicide.
"As per his suicide notes, Inderpreet was unstable as he had to take money from some persons," he said and added the accused didn't abet the suicide of Inderpreet.
He said after hearing his pleas, the judge granted bails to his clients. He also appreciated the judgement of the court.
Davinder Sandhu, Kay Ghuman were among seven other accused — the woman principal, Inderpreet's younger brother Harjit Singh Chadha, Gursewak Singh, Surjit Singh, Vijay Umat, Inderpreet Singh Anand and Varundeep Singh — who were arrested by the special investigation team (SIT) of Punjab Police, led by inspector general (IG) crime LK Yadav constituted to probe Inderpreet's suicide case.
They were arrested after they appeared before the SIT in Chandigarh for questioning on February 27.
Davinder Sandhu's father Col BS Sandhu (retd) is also wanted by the Mohali police in the case of recovery of body of a Himachal native from the water tank of Forest Hill Resort in Nayagaon near Chandigarh. The resort is owned by the WWICS group. BS Sandhu is on the run.
Close