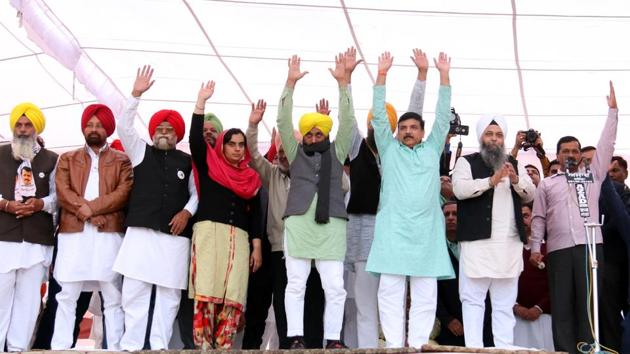 Kejriwal challenges Badal in his bastion, fields Jarnail from Lambi
Aam Aadmi Party (AAP) national convener Arvind Kejriwal on Wednesday announced that Delhi legislator Jarnail Singh, 43, will contest the Punjab assembly polls against chief minister Parkash Singh Badal from Lambi.
UPDATED ON DEC 29, 2016 10:31 AM IST
Aam Aadmi Party (AAP) national convener Arvind Kejriwal on Wednesday announced that Delhi legislator Jarnail Singh, 43, will contest the Punjab assembly polls against chief minister Parkash Singh Badal from Lambi.
Addressing a well-attended rally on the Shiromani Akali Dal (SAD) patron's home turf, Kejriwal vowed to defeat the ruling SAD-BJP combine, amid cheers.
"Who can defeat Badal?" the Delhi chief minister (CM) posed the query to the crowds spread over 5 acres, before naming Jarnail Singh as the party candidate against the 90-year-old Akali stalwart and five-time Punjab CM.
"The Congress has always been fielding weak candidates against the Badals, who end up forfeiting their security. This proves that Capt Amarinder Singh (Punjab Congress chief) and the Badals have always been hand in glove," said Kejriwal, while hailing Jarnail as the AAP's "tiger" who would defeat the CM.
Kejriwal alleged Amarinder had pursued Akali minister Bikram Singh Majithia's case with Congress president Sonia Gandhi to get the CBI probe against him (in drug racket) withdrawn.
"When the Akalis assessed that the (electoral) game has gone out of their hands, some of them joined the Congress," he said, citing the cases of ex-minister Sarwan Singh Phillaur and Inderbir Singh Bolaria, calling them "conduits of Majithia in the drug business".
"There has always been a setting between Amarinder and the Badals," he reiterated thrice, driving his message home.
Jarnail to camp at Lambi
Jarnail, who started his speech with the shabad 'De shiva var mohe...' — penned by Guru Gobind Singh to seek Lord Shiva's blessings to fight the Mughals — vowed to fight against Badal for the sake of the people of Punjab, who, he said, were repressed during the Akali regime.
"I challenge Badal for a discussion on all crucial issues affecting Punjab and its people. The venue and time can be of his choice," he said, after Kejriwal announced his name.
Later, talking to mediapersons, Jarnail said he will be camping at Lambi "this day onwards". "I am here now and have already brought my luggage," he said, adding the AAP's agenda during the poll campaign in Lambi would be to "expose the ruling Badals" and make the people aware of their rights.
Senior party leaders Bhagwant Mann, Baljinder Kaur and Sanjay Singh delivered fiery speeches, dubbing Shiromani Gurdwara Parbandhak Committee (SGPC) member Dyal Singh Kolianwali a "goon". The Badal loyalist had been resisting the AAP's attempt to hold its rally at Kolianwali, which is regarded his stronghold, and has not witnessed a similar Congress rally to date. The leaders congratulated local farmers for their support in organising "a historic rally".
Leading a scathing attack against both the Congress and SAD for "nepotism" prevailing in Punjab politics, Sanjay Singh, the party affairs in-charge in Punjab, said: "Where are the parties? These are private limited companies owned by clans."
Appealing to the crowds to vote for the AAP to form a "government of the common people", he claimed the AAP would win 100 seats in the 117-seat assembly.
The AAP has already fielded prominent leaders against Akali bigwigs. While Sangrur MP Bhagwant Mann has been pitted against SAD president and deputy chief minister Sukhbir Singh Badal, Himmat Singh Shergill will contest the polls against revenue minister Bikram Singh Majithia from Majitha.
Why Jarnail Singh
• Jarnail Singh was elected as the AAP MLA from Rajouri Garden, defeating SAD's richest candidate and Badal's close associate Manjinder Singh Sirsa in 2015. Earlier, he had unsuccessfully contested the 2014 parliamentary polls from West Delhi, also on the AAP ticket.
• He has been chosen for his Panthic credentials. A former scribe, Jarnail had hurled a shoe at the then home minister P Chidambaram over the issue of justice to 1984 anti-Sikh riot victims in 2009. In July 2015, he broke down in the Delhi assembly while speaking over the issue.
• He is party's prominent Sikh face. In August this year, the AAP elevated him as co-in-charge of Punjab and its spokesperson in the state after the party felt a dearth of Sikh faces ahead of the polls.
Will he have to resign as Delhi MLA?
There is no clear answer to this. Election experts have varied opinions. Additional solicitor general Satya Pal Jain, who has been part of a number of election petitions, said Jarnail needs to first resign as the Delhi MLA before he can contest the Punjab polls. "Law is very clear. You have to be a voter in that particular state from where you want to contest the assembly elections... He (Jarnail) needs to get his vote deleted in Delhi and get registered in Punjab. By virtue not being an elector, he seizes to be an MLA," said Jain, adding if Jarnail conceals information about his Delhi vote, he is liable for criminal prosecution.
Two other high court lawyers, however, have a different opinion. SS Swaich and APS Deol, who have represented several politicians in the HC, said for now Singh only needs to get his vote deleted from Delhi and get registered in Punjab. "If he wins in Punjab, he can choose either place. But he can't remain a legislator from two places," they said.
Close