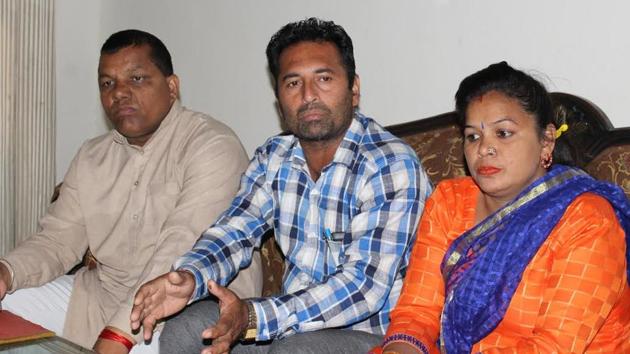 Man 'loses' eyesight in alleged police torture, SSP forms SIT
Boota Khan of Khurd village in Sangrur district says that he has almost lost his sight in one eye and is unable to hear from an ear as he was brutally beaten up by cops
Hindustan Times | By Avtar Singh
, Sangrur
UPDATED ON MAY 02, 2017 01:23 PM IST
Four days after a hearing in the Punjab and Haryana high court regarding the alleged torture in illegal police custody at Sandhour police station near Malerkotla, a man narrated his tale before mediapersons here on Monday. The alleged police torture victim, Boota Khan, 35, a resident of Khurd village, said that he has almost lost his eyesight of one eye and is unable to hear from an ear as he was brutally beaten up by cops.
Khan, who is a Congress worker, was accompanied by Poonam Kangra, general secretary of the Punjab Youth Congress at the press conference.
He said that police picked him without any written complaint and tortured him at the police station. "There were some misconceptions between me and my wife, but the police picked me on November 29, 2016 late evening on a verbal complaint. When I received a call from the police, I was in Sangrur and was told to appear at the police station. As I reached my village, it was late evening, then I informed the sarpanch of the village and assured the police to come the next morning. But, when I arrived near my home, I saw cops at my home, then I went to a former sarpach's home from where station house office, Kulwant Kaur, brought me to the police station" said Khan.
"I was beaten up at my village and after that they tortured me at the police station, where I even became unconscious. The next morning around 3 am I found myself in the hospital. After that, police arranged my treatment at Malerkotla and Ludhiana hospitals," he added.
Boota said after discharge, I had to admit myself in the civil hospital, Sangrur, from December 9 to 12 where doctors referred him to the PGIMER in Chandigarh.
"I have almost lost my eyesight of one eye and also needed an operation of an ear, but there is no guarantee that I can recover my eyesight and hearing power. Now, I just want justice and strict action against SHO Kulwant Kaur and her aides," Khan said.
Boota has moved the high court, and on the first hearing on April 27, the court postponed the second hearing to May 23.
"Khan is a committed Congress worker and was tortured by the police at the behest of the SAD government as his wife was directed by some SAD leaders to make a complaint against him. If no action is taken against the guilty, we will approach chief minister Amarinder Singh," said Poonam Kangra.
Meanwhile, senior superintendent of police has formed a special investigation team (SIT) to investigate the matter. "As the matter is in the high court, but the SSP has formed an SIT of three officers, including me. We will investigate the case and submit our report soon," said SP (D) Sewa Singh Malhi.
Close