Punjab govt to amend teacher transfer policy, may drop clause on 7-year cap
A senior education department official said the final decision would be taken in the meetings of the heads of teachers' unions with the chief minister on June 19.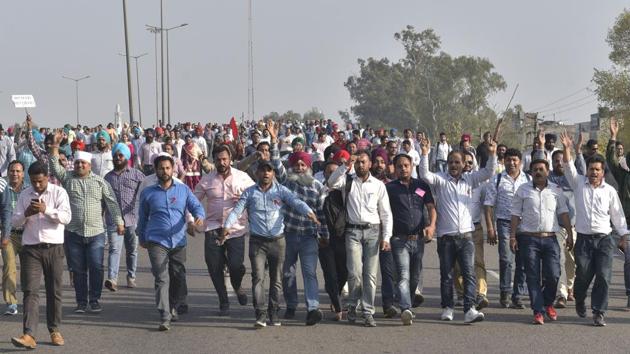 Updated on Jun 13, 2018 10:38 AM IST
Faced with stiff opposition from the school teachers' unions, the Punjab government is contemplating to amend its Teachers Transfer Policy 2018 to drop the clause that puts a seven-year cap on stay in a school.
The policy, which was approved by the state council of ministers headed by chief minister Capt Amarinder Singh three months ago, mandated that every teacher will be compulsorily transferred after completing seven years in a school, and no teacher will be allowed to seek transfer before completion of three years in a school. The school teachers' unions were up in arms against the two clauses from the word go and launched a stir under the banner of Sanjha Adhyapak Morcha to press for their withdrawal.
Balkar Singh Valtoha, one of five conveners of the Morcha, said the government has agreed "in principle" to amend the policy to accommodate their demands on these two clauses. "An assurance has been given to us by the top brass of the school education department in a meeting last week. While they have promised to do away with the seven-year clause altogether, the minimum period after which a teacher will be able to seek transfer is also being brought down from three years to one," Valtoha told HT.
A senior education department official also said the government is willing to take a relook at the clauses. "These clauses were brought to provide a level playing field and end complacency among teachers. The aim of the policy is to bring greater transparency in transfers. We will not let these small issues affect the overall objective," he said, requesting anonymity. School education minister OP Soni is holding a meeting with the department officials on Wednesday to discuss these demands.
The official said the final decision would be taken in the meetings of the heads of teachers' unions with the chief minister on June 19. The Morcha is also demanding regularisation of contractual teachers, full pay scale for teachers on 'equal work-equal pay' principle, changes in teacher-taught ratio for secondary and senior secondary classes, and amendments in the rationalisation policy. The state government, which approved the policy on March 7, has been keen to implement from the current academic session, but had to put that on hold due to the teachers' protest.
The policy has a number of significant initiatives aimed at improving the quality of education, and gives preference to teachers who have delivered good results and those who send their children to government-run schools. In a first, transfers will be carried out online once a year, except in cases of administrative exigency such as adverse pupil-teacher ratio and disciplinary issues, on a point system. Teachers will be awarded points out of 200 on age, length of service, performance, special categories, among other criteria. The teacher earning highest points will be entitled to be transferred against a particular vacancy as per his/her preference. Special category teachers such as women, widows, differently abled, or those with ailments, will get additional points. The state has about 19,000 schools with over 1 lakh teachers.
Close Story