Regional Buzz: From Charanjeet Channi's jumbo ride to Capt Amarinder's hat-trick
Updated on Dec 18, 2017 11:55 AM IST
Keeping tabs on power politics in Punjab, Haryana, Himachal Pradesh and Jammu and Kashmir.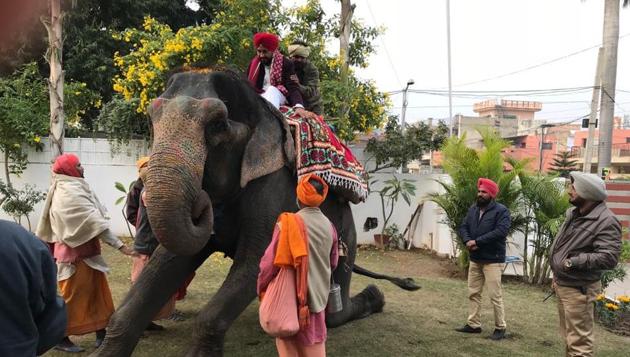 Hindustan Times |
Team HT
Keeping tabs on power politics in Punjab, Haryana, Himachal Pradesh and Jammu and Kashmir.
Channi's jumbo ride to advance political career
Punjab technical education minister Charanjeet Singh Channi was seen riding an elephant last week. The elephant was brought to the minister's Kharar (Mohali) residence where he sat on it for sometime as the elephant moved in the compound. People close to the minister revealed that he performed the act for furthering his political career. On becoming cabinet minister after the Congress formed government in Punjab earlier this year, Channi had changed the entrance of his official residence in Chandigarh towards the east to be astrologically correct. The violation, however, was removed by the UT administration later on.
Power weddings talk of the town
Come winter and it's time for weddings. Last Monday, the wedding of elder son of Suresh Kumar, chief principal secretary to Punjab chief minister Capt Amarinder Singh, was the talk of the town. The who's who from the Punjab government, including the CM, his wife Preneet Kaur and finance minister Manpreet Badal, attended the wedding function in the morning at a luxury hotel in Chandigarh where the guest list was short. Preneet also attended the reception party at a Zirakpur farmhouse where cabinet ministers Brahm Mohindra and Manpreet besides ex-deputy CM Sukhbir Badal were among those present. At the wedding of the son of PWD minister Razia Sultana and Punjab Police DGP Mohammad Mustafa last week, the CM, his cabinet colleagues and Sukhbir were present while some guests from Pakistan had also come. Also, the daughter of chief information commissioner Swaran Singh Channy got married to retired DIG SPS Barsa's son in a plush farmhouse in Zirakpur last week.
Will panthic, secular go hand in hand for SAD
Even as the Shiromani Akali Dal (SAD)'s decision to celebrate its foundation day at the Golden Temple after nearly three decades led to speculation about its return to panthic roots, party president Sukhbir Badal wants to retain its "secular image". At a press conference after the foundation day celebrations, a question on whether the SAD is a secular or panthic party left Sukhbir confused. "What kind of a question is this?" he asked the reporter before a long pause. "The SAD is a party of both Punjabis (secular) and Sikhs (panthic)," he added. Insiders say the party wants Sikhs to return to its fold without pushing away Hindus and other communities. But this approach has not gone down well with some sections of the Sikh community.
Sidhu predicted a hat-trick for Capt
Local bodies minister Navjot Singh Sidhu predicted a hat-trick for Punjab chief minister Capt Amarinder Singh a week ago to a reporter of this newspaper. "He won the assembly polls in March, then Gurdaspur parliamentary bypolls in October and now he will win the civic body polls," said Sidhu. Rejecting the claims of the Shiromani Akali Dal-Bharatiya Janata Party (SAD-BJP) alliance and the Aam Aadmi Party (AAP) that the Congress misused the government machinery during the Gurdaspur and civic polls, he said a victory in the municipal elections will be a tribute to the good governance and policies of the CM.
Oppn fires salvos at CM's 'Chintan Shivir'
The three-day 'Chintan Shivir' held by the BJP government in Haryana at a private resort in Parwanoo gave ample ammunition to its rivals to fire salvos at it. While INLD leader Abhay Chautala accused CM Manohar Lal Khattar, who preached austerity, of splurging taxpayers' money, former CM Bhupinder Singh Hooda called it a big drama. Another Congress leader Kiran Choudhry also took a jibe at Khattar asking him to utilise such events to impress upon his colleagues to speak less and work more. "The opposition has no faith in such events as they are interested in their personal or family interests only," the chief minister said in response.
Lighter moments at the hill resort
The 'Chintan Shivir' of the Khattar government for ministers and bureaucrats on key areas had its share of light moments. Among some young achievers honoured at the event was stand-up comedian and actor Sunil Grover, who hails from Sirsa and is best known for his role of 'Guthhi' in the television show, 'Comedy Nights with Kapil'. He also gave a brief performance. Then, there was folk singer Prahlad Tipaniya, known for his Kabir bhajans, who was specially invited with his troupe on Day 2.
Minister's grouse against officials' foreign visits
Haryana agriculture minister OP Dhankar is upset over frequent foreign trips of Haryana Pashu Chikitsak Parishad officials. Dhankar says the officials have a knack for planning visits abroad at the government's expense. Last week, and in the presence of media, Dhankar after launching a portal of the parishad said among the many files he clears pertain to parishad officials seeking approval to go abroad on official visits. He didn't stop here. He advised the reporters to find out how many officials have visited abroad and the money they spent on such visits. He told the parishad staff to stop seeking benefits for themselves and instead set targets to make Haryana number one in milk production.
Warning Cong's favourite babus to pack bags
The exit polls predicting a clear majority for the Bharatiya Janata Party (BJP) gave reason to the party leaders and supporters to cheer. While a number of them took to social media to express their joy, some took digs at the Congress government's favourite officials to pack their bags, adding to anxiety among a section of the state bureaucracy. "Friends of some people packed their baggage much before the exit polls, others doing it now. I congratulate them all," BJP vice-president Ganesh Dutt wrote in a Facebook post.
A deserted HP civil secretariat after polls
The Himachal Pradesh civil secretariat wore a deserted look for 37 days after the assembly elections. Not all ministers visited their offices to clear the pending files after the polling on November 9. The general administration department locked the office of urban development minister Sudhir Sharma. The room of animal husbandry minister Anil Sharma was also locked after he switched sides to the Bharatiya Janata Party as soon as soon as the poll dates were announced. Officials said that Sudhir never visited his office after November 9 whereas Anil Sharma quit the state cabinet and joined the BJP.
(Contributed by Gurpreet Nibber, Ravinder Vasudeva, Surjit Singh, Rajesh Moudgil, Pawan Sharma and Gaurav Bisht)
Personalise your news feed. Follow trending topics