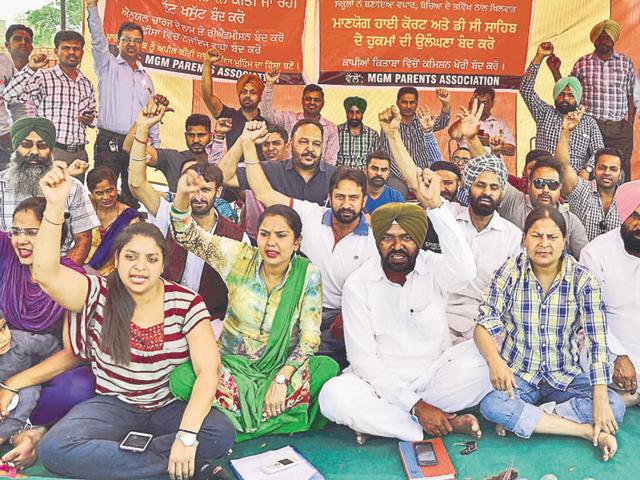 Schools fleece students: Fee-regulation law before year-end, says Cheema
Punjab education minister Dr Daljit Singh Cheema has promised a body or a legislation by year-end to regulate school fee and save parents from exploitation at the hands of private institutions.
UPDATED ON APR 21, 2016 02:19 PM IST
Punjab education minister Dr Daljit Singh Cheema has promised a body or a legislation by year-end to regulate school fee and save parents from exploitation at the hands of private institutions.
Even three years since a Punjab and Haryana high court order, the Punjab government is yet to lay down a permanent mechanism to regulate private-school fee. Arbitrary increase in these charges year after year has prompted parents to come out on streets in Punjab, leading to ugly reactions such as the illegal confinement of students at Patiala's Budha Dal School on April 12 for not paying capitation fee.
Read more: Education shouldn't be a tool for politics: Daljit Singh Cheema
The committee that the Punjab and Haryana high court had constituted to look into fee increase considers itself merely an advisory body, while the Punjab government thinks otherwise. "If Justice Amar Dutt Committee could order fee refund in case of a few schools (such as Bal Bharati) in Ludhiana, it can do so in other cases, too," the education minister told HT in an exclusive interview on Monday.
The high court had asked Punjab for a regulatory mechanism within six months from April 2013. The government didn't come out with even a law promised in the compliance report submitted in 2014.
Read more: Patiala school 'confines' students, 3 land in hospital as fee row turns ugly
Caught between high court, govt
In the Patiala "confinement" case, the deputy commissioner who asked the sub-divisional magistrate (SDM) and district education officer (DEO) concerned for a report within 24 hours seems to have forgotten the issue. After the SDM has been transferred, the administration hasn't care to depute another official. Patiala DC Ramvir Singh said: "After a long agitation by parents in his district, Ludhiana DC Ravi Bhagat had announced on April 6 that development charges in private schools would be 30% of last academic year and the fee increase only 5% instead 15. A fortnight later, Bhagat said formal orders were not issued, since the schools and the parents had reached a compromise. Most schools have started complying but a few still don't adhere to what we say."
Another DC in the state said on the condition of anonymity that the government needed to take control of the situation. "We are helpless beyond a point, unclear whether to go by high court recommendations or follow government's regulation. One avoids getting into all this, so the best way is to help the two parties resolve the issue amicably at the district level," the officer claimed.
In Bathinda, DC Basant Garg had to intervene when the secretary of the parents' association went on an indefinite fast earlier this month.
CBSE clueless about HC order
Various private schools in the state are charged with transferring money to franchise or another school close by. The Central Board of Secondary Education (CBSE) affiliation rules forbid diverting of school income to individuals in a trust, society, or school committee or outside. CBSE regional coordinator RK Khanderao said since the matter was sub-judice, the board could not take action or withdraw affiliation.
Disposing of a writ petition in 2013, the high court had formed committees in Punjab, Haryana, and Chandigarh to look into fee regulation. Asked about it, Khanderao said in his knowledge, the matter was still sub-judice. "What can the CBSE do until the committee files a report," he says.
PSEB schools fair, says chairperson
Punjab School Education Board chairperson Tejinder Kaur Dhaliwal said the fee at most of its affiliate schools was "nominal" and "so the issue was not big, even though we do take action on complaints". "Exorbitant fee is an issue in the CBSE-affiliated private unaided schools in the state," she said
Punjab director public instructions (secondary) Baljit Singh said he'd discuss a solution with the education minister on Monday. Asked about letter that Justice Amar Dutt Committee had sent him last month about implementing fee norms, he said: "We have endorsed it, and the respective DEOs (district education officers) are in the process of communicating it to all schools. The committee wants private schools to display the fee structure and book lists on notice boards and issue receipt against the fee received."
The way forward
The annual fee increase by private schools remains a contentious issue. Maybe Punjab can learn from some other states. The Delhi government mooted the Delhi School (Verification of Accounts and Refund of Excess Fee) Bill, 2015. In January, the Delhi high court ruled that the private unaided schools that had received land from Delhi Development Authority could not increase charges without the government's permission.
Tamil Nadu, Rajasthan, and Maharashtra have also enacted a legislation for fee regulation in private schools.
In case of Chandigarh, the tribunal led by Justice RS Mongia (retired), remains a work in progress.
Haryana is only one of the three in region to have devised an actual mechanism to regulate school fee. In February 2015, it constituted division-level 'fee and funds regulatory committees' for private unaided recognised schools under the chairmanship of the divisional commissioners at by adding Rules 158-A and 158-B to the Haryana School Education Rules. The interim committee constituted on the high court orders and led by late justice Kiran Anand Loll was, thus, dismantled.
Parents protest across state
In Ludhiana, parents continued to hold protests on Monday, demanding that private schools implemented the orders of deputy commissioner Ravi Bhagat to drop development charges to 30% and five increase to 5%.
Parents from four schools blocked the Gill road at Shimlapuri from 7am to 1.30pm, disrupting traffic. Their delegation also met the DC, requesting him to issue a notice to the schools that had declined to follow his orders.
In Bathinda, protesting parents burnt an effigy of state education minister Dr Daljit Singh Cheema and accused the Punjab government of acting in favour of private schools. Their representatives met additional deputy commissioner Parampal Kaur. On April 12, they had moved a complaint to DC Basant Garg, on which the administration has taken no action.
In Amritsar, a day after parents took to the streets against fleecing by private schools, the district administration decided to take up the matter with the principals concerned. DC Varun Roojam said he had called all principals for a meeting to address this issue on priority.
In Jalandhar, parents broke a police cordon to barge into a private school and protest against its management. They stopped the school buses from taking students home. For the past few days, they have been agitating against various schools.
Close