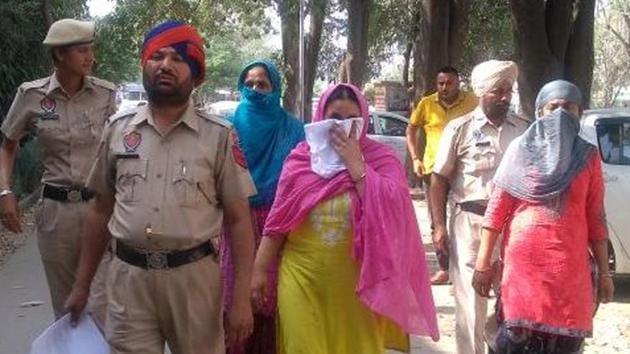 Sex determination racket: Twin setback for mother of 3 daughters hoping for son
Double whammy: Woman arrested with hospital owner and conduit on Thursday, tells court she aborted her male foetus on 'doctors' advice'.
UPDATED ON APR 07, 2018 03:31 PM IST
Arrested in connection with a sex determination racket busted at SK Hospital, Kharar, on Thursday, it's double whammy for Paramjit Kaur, 36, mother of three girls, as she consented to abort her male foetus after being 'misled' by the hospital doctors.
"I was told the four-month foetus is not developing properly and it needs to be aborted," claimed Paramjit Kaur, resident of Dau Majra village, Kharar, while breaking down in a Kharar court on Friday.
Besides Paramjit, police on Thursday had arrested Sarabjit Kaur, owner of SK Hospital, Kharar and Balbir Kaur, the conduit who used to bring women for sex determination tests at the hospital.
The trio was booked under the Pre-Natal Diagnostic Techniques (PNDT) Act, Medical Termination of Pregnancy Act, and Sections 420 (cheating) and 120B (criminal conspiracy) of the Indian Penal Code.
"Why did I believe her (Sarabjit)? I have lost everything now," wailed Paramjit, whose husband Hardeep Singh is an agriculturist.
While Paramjit told the police she approached the hospital on Wednesday after pain in the abdomen, police claimed she visited the hospital as she did not want another daughter.
"We had paid SK Hospital Rs 18,000 for a sex determination test and were told it was a male child. We were happy to realise that God had finally answered our prayers," said Hardeep, who was also present in court.
The family later paid another Rs 22,000 to the hospital for termination of the pregnancy, he claimed.
Hospital was sealed in 2016
SK hospital had first come under the scanner for carrying out illegal sex determination tests in 2016. After the raid on Thursday, health and police authorities were caught unwares on realising the hospital was also illegally terminating pregnancies after discovering Paramjit's aborted four-month foetus.
On August 26, 2016, a health department team from Haryana had raided the hospital and arrested its owner Sarabjit Kaur and two conduits. As per procedure, the hospital and the ultrasound machine was sealed.
However, on being released on bail, Sarabjit resumed the illegal business using a portable ultrasound machine.
On November 28, 2017, health authorities again raided the hospital, and found the portable machine hidden in the elevator, and a police complaint was filed. Following this, Sarabjit had filed a case against the Kharar health authorities.
"The hospital was sealed in 2016 following a raid, but was reopened on court orders. But we will make sure that this time the hospital is not allowed to resume operations," said Gurpreet Sapra, deputy commissioner, Mohali.
Close