Shimla toy train to host literary symposium on the go today
Updated on Aug 19, 2018 05:31 PM IST
The journey will begin at 10.25 am today and will witness participation of 30 writers.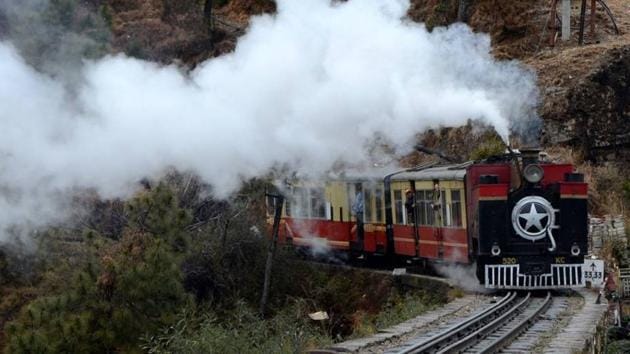 A literary event, onboard the moving toy train in Shimla, will be held on Sunday to commemorate Baba Bhalku, an illiterate shepherd who guided and helped the British in construction of the narrow gauge-track, now known as UNESCO World Heritage Shimla-Kalka rail, to the summer capital of the Raj.
As many as 30 writers will participate in the symposium, which is a unique initiative in the history of Indian Railways.
Titled Baba Bhalku Smriti Srijan Yatra, the event is being organised by Himalaya Literature, Culture and Environment Forum and Naval Prayas, Shimla, a forum dedicated to preserve the legacy of Baba Bhalku, who was resident of Jhaza village near Chail in Solan district.
Bhalku was described as an "illiterate engineer" by HS Harington, the chief engineer of Kalka Shimla-Railway.
An engineering marvel, the 96-kilometer Kalka-Shimla rail line was constructed during 1898 and 1903, having 889 bridges and 103 tunnels.
Pahari writer SR Harnot, who is among the organisers, said the complete coach has been reserved for the to and fro journey.
The journey and symposium will begin at 10.25 am and has been divided into different sessions, named after the prominent railway stations like Shimla, Summer Hill, Taradevi, Kaithlighat Kandaghat, Kanoh and Barog.
"During the sessions, the writers will recite their poetry, ghazals, stories and memoirs. Each session will be chaired by young writers," said Harnot.
The first phase of the journey will end at Barog station, from where, the train will return to Shimla. The bogie reserved for the symposium is fitted with speakers and microphones.
Harnot said that the idea behind "on the wheel literary symposium" is to carry literature activities to different fields.
"Before this event, we had organised a Kavi Sammellan in an open jail near Kanda under the guidance of director general of police (jails), Somesh Goyal, who is also among the 30 participants," he added.
"Next, we are planning a series of such events at different villages and the first will be organized at Jhaza, the native place of Baba Bhalku," he said.
Bhalku worked as a labourer on the rail line, but guided the engineers whenever they faced problems in getting the right alignment of the track. In fact, HS Harington, the agent of the railways, appreciated Bhalku's intellect and the rail line took the exact path shown by Bhalku, which made the project possible.
Topics
Personalise your news feed. Follow trending topics