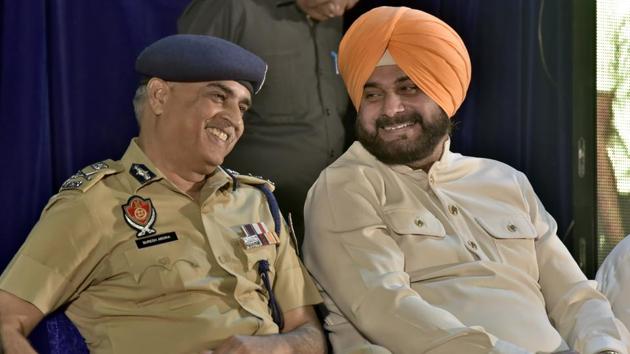 Navjot Sidhu bats for legalising opium, poppy in Punjab, says 'way better than heroin'
"My uncle used to get opium as medicine from hospital. Due to heroin, parents see bodies of their young children," Sidhu said.
UPDATED ON OCT 01, 2018 08:41 AM IST
Local bodies minister Navjot Singh Sidhu has come out in support of Aam Aadmi Party (AAP) MP from Patiala Dharamvira Gandhi for legalising cultivation, sale and consumption of opium and its by-product poppy husk in the state.
"I appreciate Gandhi for raising the demand of legalising the cultivation of opium. My uncle used to get opium as medicine from hospital. It is way better than 'Chitta' (heroin), which SAD leader Bikram Singh Majithia introduced in the state, due to which parents have to see bodies of their children," said Sidhu, on the sidelines of a function organised by the Noble Foundation, an NGO, in the city on Sunday.
In a rally at Muktsar grain market on Saturday, the suspended AAP MP had advocate legalising poppy cultivation. In July this year, Gandhi had even submitted a memorandum to Union home minister Rajnath Singh in this regard.
Referring to Shiromani Akali Dal (SAD's) Sukhdev Singh Dhindsa, who resigned from party positions on Saturday, and has in the past, backed poppy cultivation, Sidhu added, "Dhindsa's resignation is a result of the anger in the public against the Badals and the previous Akali government."
Comparing former chief minister Parkash Singh Badal to the Dhritrashtra of the Mahabharata, he added, "Badal could not see beyond his son Sukhbir, just as Dhritrashtra could not see beyond Duryodhana." He added, "The Badals and Majithia have marred the image of the state. Till they rule the SAD, the Congress will always have an upper hand as people have seen their true face."
To a query on whether petrol and diesel needed to be brought under the Goods and Services (GST) tax regime, he added, "The Union government is not decreasing the prices of fuel, even when the rates of crude oil are lower in the international market in comparison to the levels seen during former PM Manmohan Singh's tenure. If brought under the GST, rates will come down to around ₹45 a litre."
Ludhiana mayor Balkar Sandhu, MLAs Sanjay Talwar, Surinder Dawar, Rakesh Pandey and Ludhiana MP Ravneet Singh Bittu did not attend the function.
Close