The reason behind fewer girl students in IITs
Updated on Jun 21, 2017 03:20 PM IST
A lot of girls clear JEE (Advanced) exam but only a handful make it to the IITs. HT explores why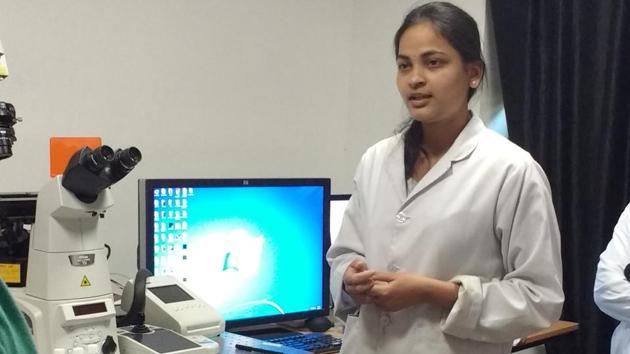 Neha Muthiyan, a third year student of computer science engineering at the Indian Institute of Technology (IIT), Mandi, was not surprised when she found out that she was one of the five girls in a batch of 115 students. Right through her JEE preparation days, she had seen the number of girl students around her dwindling.
The poor gender ratio is one of the sad realities of the premier institutes of technology in our country.
In 2016, girls formed only 8% of the total students enrolled in IITs.
It's not that the girls aren't bright enough to get admission. The fact is systematic societal biases deprive them of making it to these top institutes.
A study by the sub-committee of the Joint Admission Board (JAB), the overall advisory body in charge of admission to IITs, found that in 2016, 4,570 girls cleared the JEE (Advanced) but only 848 of them were admitted to an IIT.
WHY IS THIS HAPPENING?
The report said that societal biases are the main reason for poor representation of women in IITs. Most girls don't have access to the kind of facilities that boys of their age have. Coaching plays a significant role in preparation for JEE (Advanced). But most parents are not willing to invest in a girl child's coaching. Because of this, girls are denied a fair playing ground in the entrance exam.
Another problem is that of lack of role models. While most boys would find someone or the other who would have been to an IIT before them, for girl students, it's unlikely that they will have any sisters, aunts, cousins who did BTech from an IIT and who they could look up to.
For many girls, there is also a problem of family-imposed restrictions on geographical mobility due to safety concerns. Neha says, "When my relatives realised that by clearing JEE, I will have to stay away from my hometown for four years; they were not supportive of it. Statements like 'Girls shouldn't be sent away from home' or 'Do engineering from your hometown' had become pretty common."
I(I)T's A GIRL'S WORLD TOO!
Why should the low number of girls in IITs concern us? Engineers develop most products and technology for society. Women form almost half of this society that consumes this technology. If there aren't enough women involved in the creation process, it's unlikely that these products can fully serve women. Male engineers may not necessarily understand the needs of women.
DEBUGGING THE GENDER GAP
The JAB has made 15 recommendations to improve the gender ratio at IITs.
One of the recommendations is to add supernumerary seats or exceeding the usual number in BTech for women in all institutes. This would not reduce the number of male students being admitted, unless the overall performance of male candidates is poor. Also, this won't bring down the academic standards as only those girls who have cleared the JEE (Advanced) will be admitted. The idea is to ensure meritorious girls who clear the entrance exam don't opt out due to societal pressures or unavailability of seats in branches of their choice.
ENGINEERING A CHANGE
To encourage meritorious girls to enroll in IITs, a special help desk was set up IIT Mandi, to advise girls who qualified the JEE(Advanced) 2017 exam on a range of attractive options in IITs.
IIT Mandi, director Timothy A Gonsalves wrote to each successful candidate, urging her to avail of the unique opportunity to study in an IIT.
Personalise your news feed. Follow trending topics