The three-decade long journey of Katani Sweets: A sweet success of ingenuity, toil
Hindustan Times, Mohali |
, Mohali
Jagmeeta Thind Joy
Feb 01, 2018 01:29 PM IST
How Katani Sweets, one of the oldest sweet shops of Mohali, went on to become a household name.
That Katani Sweets, the popular sweet shop chain from Mohali, is a family run business is amply clear when Harkirat Singh, one of the owners, suggests we speak to his father. My father is always there in the evenings, why don't you come over and have a word with him," says Harkirat. When it comes to success stories of home-grown entrepreneurs, Katani Sweets is a fitting example. Started over three decades ago, the sweet shop is now a well-known brand with 11 outlets across the tricity offering not just traditional sweets but fast food as well.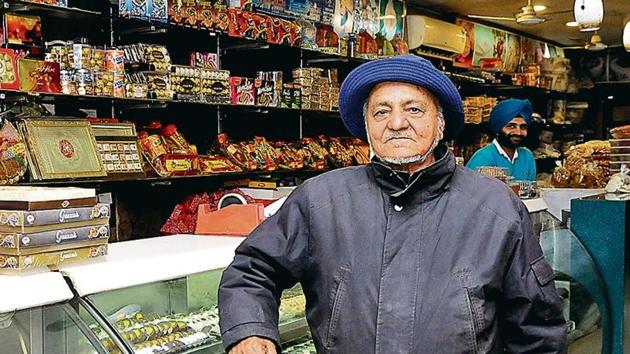 Meet the founder
On a busy, cold winter evening we arrive at the shop in Phase 3B2. Spotting Harnek Singh, the founder and head of Katani Sweets isn't difficult. Everyone wishes the 83-year-old with reverence as they cross him in the restaurant. Dressed in a long jacket and a floppy hat, he may seem like a grandfather out for an evening stroll but looks can be deceptive. Singh keeps a watchful eye on all and ticks off a worker who hasn't wiped down the table well. "Evenings are busy and l like being around," he tells us. When asked to share his story this far, Singh smiles back with a twinkle in his eye.
The beginning
How did the name Katani come about, we are curious to find out? "That's the name of my pind (village). It's on the way to Ludhiana from Chandigarh. Just as the Badals and Kairons use their village name as a surname, I decided to do the same," explains Singh who was a farmer back in the '70s. "There wasn't much to earn tilling the land so I decided to open a dairy. But I faced a lot of struggle as my cattle would invariably fall sick," reminisces Singh. Not one to lose hope, he began collecting milk from other farms to sell in the neighbouring villages. "This business was better but winter was particularly tough as demand went drastically down."
So Singh decided to supply milk to Chandigarh. Arriving here in 1980, Singh began to supply milk everywhere. "Yet, there was surplus. I decided to open a sweet shop and created the brand Katani Sweets in 1984. From day one, I was sure I wanted to involve my family," says Singh.
While the first shop opened in Sector 15, Chandigarh, Singh says it was a rocky start. "I had to vacate as there were some rental issues." Even though Mohali was considered a bad move, he decided to set up one shop there.
Thinking out of the box
The shift to Mohali was not easy. "The market was deserted. There was hardly anyone else here," says Singh who decided to fall back on his life principle once again – never give up. "The variety of sweets was the usual but I decided to lower prices. I offered barfi at Rs 12/kg," he shares. And he introduced the Katani samosa. "It was plumper, had more fillings and I gave it with two chutneys for 50 paise a plate," said Singh. Soon people started flocking to Mohali from Chandigarh to savour the samosas. I kept the prices low till I gained popularity," says Singh.
The menu too began to grow along with his NRI fans.
He also started a Diwali mela, open to all. "I put up a fancy tent, stalls of different eateries and organised music. It was a grand success," says Singh who credits himself for starting the trend of sweet shops making celebrations a big affair.
Today, Katani Sweets is present in Chandigarh, Mohali, Zirakpur, Kharar and Panchkula.
The success mantra
"It's all about hard work and giving customer value for their money," says Singh who rues that profits are not always high. Singh feels one should never give up when the going gets tough. "It's my life lesson for all. Nothing came easy to me. I worked hard and always bounced back from low phases," he asserts.
Looking ahead
While his brother, nephews and his own sons are involved in the business, Harnek is sure that expansion is not on the cards. "We have consolidated our position and want to keep at it," he tells us. Singh visits Katani village when he can. "It gives me satisfaction that I was able to create livelihood for not just my family but so many others too," sums up Singh who still gets up at four and rarely misses a day at work.