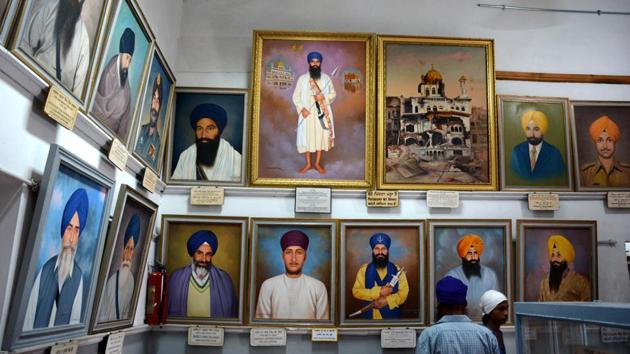 War heroes to share space with Sikh militants at Golden Temple museum
Portraits of late Lt Gen Harbaksh Singh, Gen Jagjit Singh Arora and Marshal Arjan Singh to be installed by SGPC in Central Sikh Museum where portraits of militants and fundamentalist preacher Jarnail Singh Bhindranwale have already been installed.
UPDATED ON OCT 29, 2017 09:56 PM IST
Indian war heroes belonging to the Sikh community will now share space with Khalistani militants who fought against the armed forces during and after Operation Bluestar, at a museum in the Golden Temple complex here.
Giving rise to a paradoxical scenario, the Shiromani Gurdwara Parbandhak Committee (SGPC) is putting up portraits of late Lt Gen Harbaksh Singh, hero of the 1965 Indo-Pak war, Lt Gen Jagjit Singh Arora, the poster boy of the 1971 Indo-Pak war, and Indian Air Force Marshal Arjan Singh who died recently, at the Central Sikh Museum where portraits of militants and militant preacher Jarnail Singh Bhindranwale have already been installed.
The Sikh high priests and SGPC president Kirpal Singh Badungar will unveil these portraits at a special function to be held on Tuesday.
Other militants whose portraits are part of the museum include the then All India Sikh Students Federation (AISSF) president Amrik Singh and Maj Gen Shabeg Singh who were killed during Operation Bluestar carried out by the Indian army to take on the Sikh militants holed up inside the Golden Temple complex in June 1984.
Apart from them, other prominent militants who were active after Operation Bluestar have also been recognised in the museum. They include Sukhdev Singh Sukha and Harjinder Singh Jinda — both assassins of former Gen AS Vaidya — and Jugraj Singh Samalsar.
Meanwhile, the Damdami Taksal, which was once headed by Bhindranwale, is also constructing a gallery in the premises of the Golden Temple to showcase the Sikh militants and devotees killed in the army action. The Taksal has taken up the initiative with the approval of SGPC.
Memorial for 'Dharmi Faujis'
The SGPC has also decided to construct a memorial for the 'Dharmi Faujis', Sikh soldiers who had quit their barracks in revolt after they came to know about Operation Bluestar.
'Without war heroes' gallantry, Punjab would have been part of Pak'
Recalling Lt Gen Harbakhsh Singh's contribution, Badungar said, "Had he not showed gallantry and bravery during the 1965 war, Punjab and Kashmir would have been part of Pakistan."
"Their portraits are being installed to recognise the contribution they made to secure the unity and integrity of the country," said Badungar, in a communiqué issued by the SGPC.
Notably, Sikh militants whose portraits are featured in the museum fought against the Indian security forces for the cause of Khalistan, a separate Sikh state.
When his attention was drawn to this dichotomy, Badungar said these Sikh war heroes made great contribution to the Sikh qaum (community). He said they brightened the name of Sikh qaum by making India victorious in both the 1965 and the 1971 wars.
"All these Sikh war heroes were associated with these two wars which were fought much before the episode of 1984. They set new examples of gallantry. Their deeds have much potential to inspire the young generation," he added.
Close