With Capt's return, focus turns towards reviving his home town's old glory
Mar 18, 2017 02:42 PM IST
As Captain Amarinder Singh wrests power in Punjab, the focus turns towards reviving his home town's old glory.
As Captain Amarinder Singh wrests power in Punjab, the focus turns towards reviving his home town's old glory.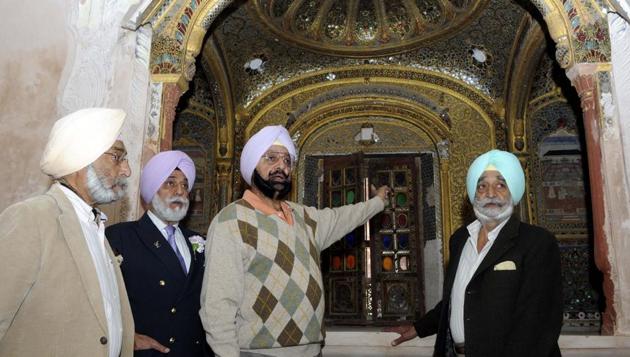 Captain's brother Malvinder Singh inspected the ongoing renovation at Qila Mubarak, the foundation of which was laid by family's founding ancestor Baba Ala Singh in 1763 and then completed by his successor Maharaja Amar Singh.
A central grant of Rs 20 crore is already being spent for the renovation of both Qila Mubarak and another ancestral building Sheesh Mahal and likely to be opened for public in near future.
Also read | A second innings for Captain Amarinder Singh as CM of Punjab: Know the man, the writer, the leader
The facelift of the fort's main façade, main gate, and other importance buildings is part of the ongoing renovation. The overall focus of the renovation is on preserving its old architecture that reflects a blend of Rajasthani, Pahari and Mughal cultures.
Malvinder, who is also associated with The Indian National Trust for Arts and Cultural Heritage (INTACH) said that given the enormity of the renovation work, the existing construction work is not sufficient for overhauling the old monuments of the city.
He said that, he along with experts in archaeology, will soon prepare detailed documents on overall revival and try to push for funds from the Centre through the state government so that the city could be promoted from the tourism point of view.
"The old buildings here are already been nominated as national heritage monuments and it is, therefore, important to preserve them, he said.
He added that his focus will be definitely on developing city as major tourist destination, for which not enough was being done by the previous governments and that can really boast local economy and employment.
"After Amritsar, Patiala has a lot of potential to attract a lot of domestic and foreign tourists because of its architectural value and blend of other cultural properties," he said.
Amarinder's family has long been the critic of the previous Akali government for ignoring Patiala due to political tussle.
In the last 10 years of the previous rule, the tourism department made its bid to promote city but not enough funds were pumped to bring the kind of facilities required for promotion of tourism.
Experts want a separate tourism corridor for the city coupled with better traffic management and civic facilities to ensure value addition for tourists.
Local residents also want that the heritage festival that was started by Amarinder during his previous stint as CM both in Patiala and Kapurthala should be started again.