Ghajinikanth movie review: Arya film shines in parts
Ghajinikanth movie review: This Arya starrer is a remake of Nani's hit film Bhale Bhale Magadivoy.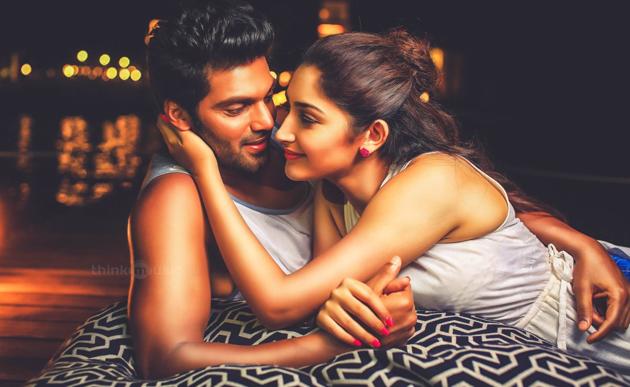 Updated on Jul 01, 2019 12:55 PM IST
Hindustan Times |
, Chennai
HT Correspondent
Ghajinikanth
Director: Santhosh P Jayakumar
Cast: Arya, Sayyeshaa, Sampath, Sathish
Rating: 1.5/5
Some films are so immersive that they will pull you right in, making you forget everything except the characters and the lives they play onscreen. Other films are won't stay with you but still manage to entertain you for the two-and-a-half hours you spend in the theatre.
Arya-starrer Ghajinikanth belongs to the second category. It scores purely because of its moderately written comedy but this is not the kind of comedy that makes you think. It is a slapstick comedy that will have you laughing every now and then. It is silly, but if you are in a mood for the "leave your brain outside" style of entertainment, Ghajinikanth is a great choice.
The film is entertaining but not all parts work that well for the film. For instance, the first half of the film drags on way longer than necessary. The humour falls flat at a few places too, looking forced on the screen. While Arya gets a superstar-like entry, it is his forgetfulness that is the star of the film. The first half of the film doesn't use this detail for the benefit of the film. Instead, writer-director Santhosh P Jayakumar has filled the first half with cliches. No element of the movie – from the leading lady who falls in love with a do-gooder to the Tasmac song – is anything we haven't seen before.
A part of the second half of the film is better as Ghajinikanth's character goes through an emotional wringer. He has fallen in love with Vandhana (played by Sayyeshaa), the same girl whose father rejected him the first time because of his forgetfulness. The father's character is played by Sampath, and he looks fittingly confused each time Rajini does something unacceptable. While his daughter is deeply in love with him, we see Sampath hate him with a vengeance. Rajini – who is aware of this hatred – introduces his friend as the man who is in love with Vandhana. The situations born out of this confusion are hilarious.
There is a rather unnecessary villain in this film. A police officer who becomes obsessed with Vandhana from the first moment he sets his eyes on her, he does not add value to the story in any fathomable way. Ghajinikanth would have been a decent comedy if not for this character.
So, Vandhana's father tells her to go with the villain because she should trust the forgetful hero to come in time to save her. (Side note: He cannot remember routes and also doesn't use Google maps for some reason). That is apparently true love, and she does it. So we have the villain forcefully trying to tie a mangalsutra around the neck of our damsel in distress, who is obviously unable to save herself. This sequence has us laughing over how brainless a so-called entertainer can get. There are many other instances in the film that also showcase a complete lack of logic.
While Ghajinikanth is an apparent remake of the Telugu hit film Bhale Bhale Magadivoy, it fails to come anywhere close. The former did not have much by way of logic either, but at least its bits of situational comedy were great and the lead character – Lucky (played Nani) – was quite capable of making one laugh out loud.
Author tweets @Priyanka_S_MCC
Follow @htshowbiz for more
ott:10:ht-entertainment_listing-desktop
Close Story
Personalise your news feed. Follow trending topics