Indomitable Axelsen meets rising star Vitidsarn for India Open title
Jan 22, 2023 07:56 AM IST
Viktor Axelsen will be aiming at winning his second-successive title this year when he meets Kunlavut Vitidsarn in the final of India Open.
A transition from the hot weather in Malaysia to New Delhi's freezing cold? No problem, Viktor Axelsen defeated local favourite Kidambi Srikanth in straight games. Slower shuttles? No problem again; he had adapted to it by the time of the second round, defeating China's Shi Yuqi. An unfortunate injury to compatriot Rasmus Gemke meant Axelsen did enter the semi-finals with top-notch energy – something he admitted in the post-match interaction with reporters too. Result? A 21-6, 21-12 win against world no.4 Jonatan Christie.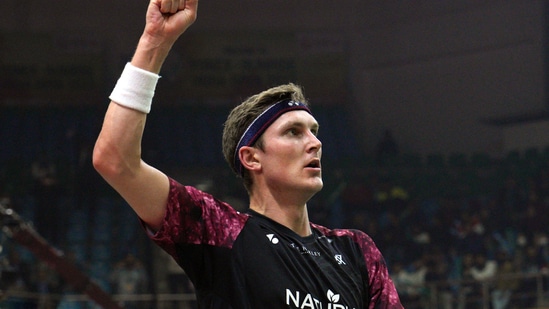 It isn't as if Viktor Axelsen is unbeatable. But the rarity of his losses almost makes him seem like a machine manufactured to lift every badminton title under the sun.
And that's exactly why a 21-year-old Kunlavut Vitidsarn remains in hunt for the biggest victory of his career so far, as he takes on the Danish World No.1 in the final of India Open on Sunday. A victory for any of the two would be one-of-its-kind; this is the first India Open edition after it was upgraded to Super 750 by the Badminton World Federation (BWF).
Axelsen has won the title twice in his career so far, while Vitidsarn is yet to beat the Danish shuttler in five meetings so far.
The indomitable Viktor
Axelsen's alarming consistency over the past few months has left the top shuttlers across the world in awe. "He is very confident. He is very good mentally," Jonatan Christie said after he faced a straight-game defeat to Axelsen in the semi-finals on Saturday.
The Danish world no.1 shuttler won 8 titles last year including the World Championships and the All England title. He faced only three defeats throughout the entire year; twice to Indians. Lakshya Sen had beaten him at the German Open, while HS Prannoy edged past Axelsen in the BWF World Tour Finals.
At the India Open, despite a fairly straightforward 21-14, 21-19 win over Srikanth in the first round, Axelsen had admitted that it was a tough outing for him. "The shuttles are a little bit slow (in India Open). Coming from a hot and humid country like Malaysia to here, where it is very cold, is hard to adapt. I'm just trying to settle in and I'm really happy I have won in straight games here. Srikanth is a tricky opponent, so I'm satisfied overall," Axelsen had said following the win.
Also read: Viktor Axelsen lauds 'tricky opponent' Srikanth after first round win at India Open
He had dropped only his second game this year during a second-round clash against China's Shi Yuqi but eventually prevailed in a match that lasted 63 minutes on Thursday. After dropping the second game, Axelsen had made a blistering comeback, producing an exhibition in stunning pick-up-and-kill shots combination. And that remains the highlight of Axelsen's gameplay; the 29-year-old shuttler makes excellent use of his height and doesn't exert in his pick-up shots, allowing him to return to the centre of the court well in time for the smash.
In the quarterfinals, Axelsen had been cruising against fellow countryman Gemke before the injury to the latter eventually confirmed Axelsen's place in the semis. On the contrary, Jonatan Christie had played a three-game marathon against Chou Tien Chen of China late Friday, and clearly looked exhausted early into the semi-final as Axelsen cruised to his second final of the year in as many tournaments.
Huge opportunity for Vitidsarn
The 21-year-old Thailand shuttler has a chance to do something his fellow 2018 junior batchmate Kodai Naraoka couldn't in Malaysia last week; defeat Axelsen to lift a maiden 750 title.
Vitidsarn had made a fairly dominant start with a 21-13, 21-13 victory over Hong Kong's Angus Ng Ka-Long before defeating Denmark's Anders Antonsen in a three-game thriller on Thursday. His best performance, however, came in the quarters against Loh Kean Yew; Vitidsarn had been trailing 7-11 in the first game but produced a remarkable comeback, taking 12 successive points before taking away the game.
He eventually won 21-12, 21-17 before setting up a semi-final clash against Thailand's star shuttler Antony Ginting. It was again a marathon first game that saw a see-sawing of points. At 26-25, a net error from Ginting eventually handed the game to Vitidsarn, who then defied a comeback from the Indonesian shuttler to seal the tie.
After the first round win, Vitidsarn was asked whether Axelsen was unbeatable as the player pressed on various topics in a lengthy mixed zone interaction. At the time, the youngster stated that he isn't too focussed on result when it comes to facing the World No.1 shuttler.
"Well, it's very hard for me and other players but I have to try everything and it is okay if I lose, I want to learn," Vitidsarn had said.
Head-to-Head
Axelsen is undefeated in five ties against Vitidsarn so far. In fact, Vitidsarn is yet to take a game against Danish no.1. Their latest meeting was in October last year where Axelsen had won 21-16, 21-8.
Fans rally behind Axelsen
Fans queued up well in advance for the star-studded semi-final between Axelsen and Christie, and as soon as the Danish shuttler entered the arena, he was greeted with resounding chants of 'Viktor bhaiya, Viktor bhaiya!'. There were banners, and there were Indianized chants from fans throughout the competition for Axelsen and it hasn't gone unnoticed from the world no.1.
"I really want to thank the Indian badminton fans for their support today. To see badminton growing here is really good. Thank you so much for support, and I'm looking forward to come back in the years to come as well," Axelsen had said following the win against Christie.