'Both deserve to be in Champions League': Xavi talks Man Utd clash, Ten Hag and the million-dollar Messi question
Feb 03, 2023 06:56 PM IST
Xavi feels both, Barcelona and Manchester United are at a similar stage in their 'revival' as the two clubs meet in the Europa League later this month
Barcelona are enjoying a stellar season in the La Liga, where the side is currently five points clear off the second-placed Real Madrid. The Catalan giants are on a four-match winning streak in the league and strengthened their chances to end a title drought with a close win over Real Betis earlier this week.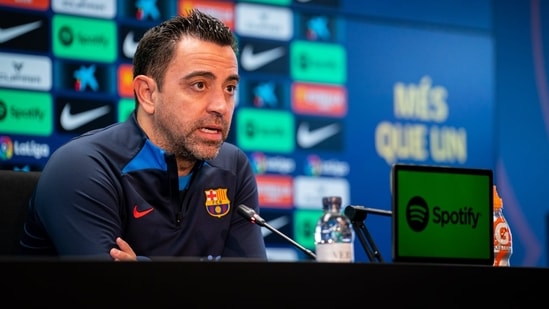 However, the side had faced a setback earlier in the season when it was knocked out in the Champions League in the group stage; Barcelona had finished third in the group that had Bayern Munich and Inter Milan progressing to the round-of-16. Xavi, the club's legendary former midfielder who had returned to Barcelona as manager in November 2021, understands how important it is for the club to compete in the top-tier competition.
"It's difficult to manage Barcelona," Xavi told Hindustan Times in a media interaction. "We have a lot of pressure. We need to win titles. Fortunately, I know the club and the environment."
Xavi says he is drawing inspiration from his time as a player at Barcelona to take on the challenge of steering the club out of struggle in Europe. The midfielder represented Barcelona between 1998-2015, appearing in 505 La Liga matches and winning eight league titles. He also lifted the Champions League trophy on four occasions with the club.
"I've been here as a player for 24 years, so I'm proud and honoured to be the coach of Barcelona. I know the pressure here, many people criticise us, but this is Barcelona. I accept this challenge. I'm happy to be here. We need to win titles to avoid criticism," Xavi says.
Barcelona may not be in the Champions League this season anymore, but it doesn't mean they won't have a tough competition in Europe. The club was drawn to Manchester United in the Europa League round-of-16 and will host Erik Ten Hag's men in the first leg on February 16. United, like Barcelona, are also undergoing a revival under the Dutch manager; the side is currently fourth in the Premier League and entered the final of the English League Cup earlier this week.
"We were not lucky in the draw because we have to face Manchester United!" Xavi chuckled as he talked about the upcoming clash. "They are on a good run. It's always a pleasure to play at Old Trafford. Ten Hag is doing a good job, they have very good players and it's going to be really difficult to beat them," said the Barcelona coach ahead of the clash.
Manchester United have struggled significantly over the past few years, with the club's last trophy being the Europa League title in 2017. The silverware, however, looks closer under Ten Hag and Xavi says both clubs are slowly – but surely – on an upward curve.
"Yes, more or less (both clubs are at a similar point)," Xavi told Hindustan Times. "We are coming back. Manchester United and Barcelona, both are in the Europa League. I think both teams deserve to be in the Champions League, but this is our reality and we need to face it," Xavi further says.
The midfielder has been a part of many memorable clashes against United, and will now be meeting the club for the first time as a manager. "Manchester United and Barcelona have had many problems in the last 2-3 years. But I think we are coming back. In my opinion, (Erik) Ten Hag is doing a very good job. Both teams are in a similar process (of revival)," said Xavi further.
Barcelona is Messi's home
It may have been way more than a year since Messi left Barcelona, but Xavi insists that the Argentina legend will be welcomed with open arms if he wants to come back. The Barcelona manager, who spent a large part of his club career with Messi, said the decision to come back depends on "Messi more than the club."
"Why not (about the possibility of Messi's return). I think it depends on him," Xavi said.
"What he wants, what he feels. Of course, Barcelona is always Messi's home. Doors will be opened for Leo, especially if I'm the coach here. Let's see what he wants to do. The decision depends on Messi more than the club."
It was recently reported that Messi is set to sign a new contract with Paris Saint-Germain; however, there has been no confirmation on the same.