Hockey World Cup: India beat South Africa 5-2, finish joint ninth
Jan 28, 2023 10:14 PM IST
The hosts controlled the 9-12 classification playoff in the Rourkela stadium packed with more than 21,000 fans
It wasn't what they had expected when they started out but the Indian hockey team achieved a consolation win in their final World Cup match on Saturday to end the quadrennial tournament in joint ninth position in Rourkela. The hosts earned a comprehensive 5-2 victory against South Africa in the 9-12 classification playoff to finish joint ninth with Argentina, who beat Wales 6-0 earlier in the day.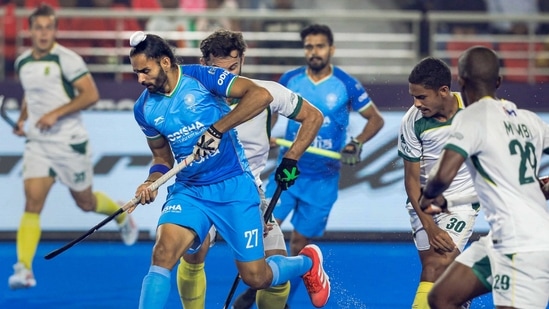 Abhishek (5th), skipper Harmanpreet Singh (12th), Shamsher Singh (45th), Akashdeep Singh (49th) and Sukhjeet Singh (59th) scored for India while Samkelo Mvimbi (49th) and Mustaphaa Cassiem (60th) scored for the world No 14 outfit.
India had beaten South Africa on all three times the two sides met in 2022. India in fact haven't lost to South Africa since the 2012 London Olympics.
In the last game of this World Cup at the new Birsa Munda Hockey Stadium, India drew first blood when a superb pass from Harmanpreet into the striking circle found forward Abhishek, who collected the fast ball with ease, hammering it into the board.
India ended the first quarter with Harmanpreet drag-flicking the ball into the net to put the hosts 2-0 ahead.
After a goalless second quarter, the 21,800 spectators had to wait till the end of the third quarter for the third goal of the contest when Abhishek got into the act again with a lovely pass, Shamsher's deft touch making it 3-0 for India.
A couple of minutes into the final quarter, a good run from the Indian forwards saw Raj Kumar Pal pass to Jarmanpreet Singh, who further pushed it to Akashdeep, who scored his third goal of the World Cup.
South Africa had made a couple of attempts earlier in the match but lacked the finishing touch. They finally converted an attempt when India were caught unawares on a counterattack immediately after scoring. Mvimbi caught hold of an aerial ball in the circle to put South Africa on the board.
India restored the margin when Sukhjeet passed to Akashdeep, whose reverse touch was saved by goalkeeper Gowan Jones. But the ball rebounded and Sukhjeet used his presence of mind to push in for India's fifth. Cassiem converted from the spot in the final minute to reduce the margin.
It was forward Mandeep Singh's 200th international.
This is the worst performance by a host nation at the World Cup. The previous low was eighth place finish by Argentina in Buenos Aires 1978, Malaysia in Kuala Lumpur 2002 and India in New Delhi 2010.