How Bharat Kesri Dangal is bringing Haryana wrestlers into spotlight
Mar 23, 2016 12:53 AM IST
Even chief minister Manohar Lal Khattar's detractors cannot discount the fact that the Bharat Kesri Dangal has come as a boon for wrestlers in the country
It's half-past eight on a sunny Monday evening, and cheers suddenly erupt amid the deafening noise of Punjabi music being played at the jam-packed Tau Devi Lal Stadium in Gurgaon. Nasir Khan of Haryana has just subdued the Indian Air Force's Karamjeet to win the first game of the freestyle wrestling tournament.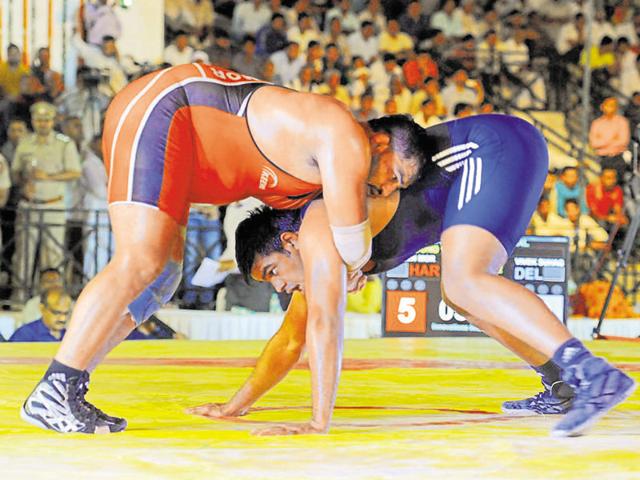 Fifteen minutes later, another roar erupts as Haryana's Anoop Kumar defeats Tejbir from the same state in the game that follows.
Lesser-known wrestlers, including Nasir, Karamjeet, Anoop and Tejbir, are among the 78 who are competing at the Bharat Kesri Dangal, an event that puts the spotlight on one of the oldest sports in the country. Organised by Haryana government in association with the Indian Olympic Association and the Wrestling Federation of India to commemorate the martyrdom day (shaheedi diwas) of Bhagat Singh, Rajguru and Sukhdev, the tournament is being perceived by the Opposition as an effort by the Bharatiya Janata Party (BJP) government to hijack the revolutionaries' legacy.
However, even chief minister Manohar Lal Khattar's detractors cannot discount the fact that the event has come as a boon for wrestlers in the country — particularly those from Haryana. "It is indeed a praiseworthy initiative by the Haryana government. It will definitely help promote wrestling," says Nasir, an 18-year-old contestant from Uttawar village in Palwal district, Haryana.
While the winner of the competition will walk away with a cash award of Rs 1 crore, the first and second runners-up will get Rs 50 lakh and Rs 25 lakh respectively.
Read: Wrestling tournament kicks off in Gurgaon, winner to get Rs 1 cr
Gurgaon is no stranger to wrestling; three pro-wrestling league contests were held at the Hotel Hyatt Regency here last year. Known popularly as 'dangals', these Indian-style wrestling events are where wrestlers from various akhadas in rural Haryana indulge in 'mitti kushti' (mud wrestling) contests — which, in turn, serve as breeding grounds for wrestlers at the state, national and international levels.
In the absence of an organised system, villagers — sometimes even elected panchayats — pool in money to organise these contests. "In some cases, the villagers feed wrestlers to keep them fit," said Sube Singh Yadav, a kushti enthusiast from Mahendragarh district in Haryana.
Local wrestlers burn the midnight oil, quite literally at times, before competing in dangals — drawing crowds in thousands — for rewards as little as Rs 1,000.
Gurgaon, however, was not the only place that witnessed wrestlers from Haryana displaying their might over the last few days. Thousands of miles away in Kazakhstan, star wrestler Yogeshwar Dutt from Sonepat secured an Olympic quota place for India with a gold-medal finish in the men's 65kg freestyle category on Saturday.
The sport, however, has seen a rise in popularity in recent times. Its allure has even seeped into the silver screen, with Bollywood star Aamir Khan playing celebrated wrestling coach Mahavir Phogat in the much-anticipated Dangal and co-actor Salman Khan essaying a wrestler's role in Sultan.
Not many wrestlers -- barring a few players like Yogeshwar Dutt and Geeta Phogat -- foresaw a bright future in the sport, at least until big ticket tournaments like the Bharat Kesri Dangal came along. "If the government continues to organise events like these, wrestling will have a bright future in India — just like cricket," says Mausam Khattri, a 26-year-old wrestler from Sonepat.
Mausam, a sub-inspector in Haryana Police, struck gold at the recently concluded SAF games in Guwahati, and will participate in the Olympic qualifiers for the 97-kg wrestling event scheduled in Turkey next month.
At the heart of India's invisibility on the wrestling front is an acute shortage of tournaments such as the one being organised in Gurgaon. Not more than 60 akhadas across 6,500 Haryana villages are registered with the state sports department.
Read: Wrestling enthusiasts wait for 3 hours before first match
As things stand now, most of the akhada-trained wrestlers go unnoticed. Some of them, who start playing at the tender age of 10, are forced to go back to tilling their fields. Luckier ones like Mausam Khattri land jobs in government services such as the Railways, police and para-military forces. "And then there are the really poor wrestlers, who are forced to make a living through illegal means," says DN Chadha, executive member, Wrestling Federation of India.
There is hope on the horizon, though. As per the new Haryana Physical Activities and Sports Policy-2015, sportspersons securing the first position at state-level kushti competitions would get Rs 5,100 instead of Rs 500. Similarly, the winners of the state-level "kesari dangal" would get Rs 1.51 lakh instead of Rs 31,000.
"It is my dream to see a registered akhada in every village of Haryana. We have decided to extend monetary support to these akhadas," Haryana sports minister Anil Vij said.
Haryana has a history of producing ace wrestlers such as Yogeshwar Dutt (Sonepat), Chandgi Ram (Hisar), Geeta Phogat (Bhiwani), Lila Ram (Bhiwani) and Suman Kundu (Jind). Villages such as Mandhoti and Chara (both in Jhajhar district) have produced many famed wrestlers.