Nikhat Zareen wins gold at Women's World Boxing Championships, beats Jutamas Jitpong in 52kg final
Published on May 19, 2022 09:07 PM IST
The Indian beat Jitpong of Thailand for gold in the 52kg category.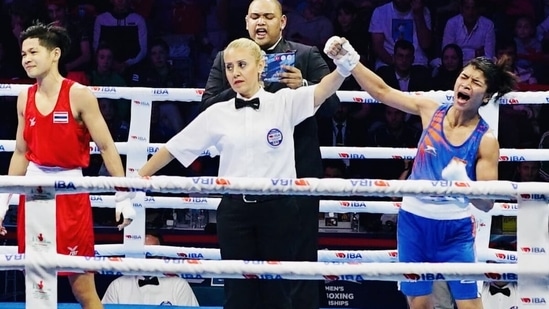 With a world title on the line in Istanbul, Nikhat Zareen closed her eyes and prayed. Her opponent Jutamas Jitpong of Thailand had taken the final to the last round but Zareen had thrown enough punches to not leave it to fate this time. She had sealed it with a thumping third round against the Tokyo Olympics quarter-finalist. Or so she thought.
When her hand finally went up, Zareen roared, her face became a mélange of emotions before tears rolled. She clutched India coach Bhaskar Bhatt and sobbed on the side of the ring. Two-and-half years after losing a bitter, highly-charged selection trial to legend MC Mary Kom for a berth in the Tokyo Olympics qualifiers in the flyweight (52kg) division, Zareen was a world champion.
That tussle with Mary Kom, her insistence on a selection trial had steeled Zareen's resolve. In Istanbul she was making a statement, loud and clear. This was one big title she wanted badly. Zareen dominated opponents in her five bouts, winning all by unanimous 5-0 margins. She took the ring with a swagger; threw punches fast and attacked with a purpose. She is now the fifth Indian woman to win a world title, but, more importantly, the only boxer besides Mary Kom to become a world champion since women's boxing became part of the Olympic programme in 2012.
From when she burst into the scene with gold at 2011 world junior and youth Championships in Turkey, her potential was never in doubt. But the boxer from Nizamabad lived in the shadow of Mary Kom because they were in the same weight category. In 2016, Zareen changed her weight class but couldn't go beyond the quarter-finals at the worlds. She then decided to stick to flyweight and prepare for the Tokyo Olympics, but for that she had to go past Mary Kom–the most decorated boxer in history of world championships with six titles.
Zareen had an impressive run in 2019 with bronze at the Asian Championships and gold in Strandja Memorial. "She was preparing for two-three years with Tokyo Olympics in mind and too much was made out because she wanted a fair selection trial," said her father Mohammad Jameel who had introduced Zareen to boxing.
"There was no way she could have gone to Tokyo qualifiers in any other weight class. It was a big blow to her. She went through a difficult period for a few months but then you have to pick yourself in life and that's what Nikhat has done. She had support from a psychologist, physio, trainer and she worked hard on her physical and mental side."
"After few months, she pulled herself together. She had to stay positive and look ahead. She is young and has a lot of boxing left. After the Tokyo Olympics, I told her to get back to full preparation because they can call for trials anytime for world championships," said Jameel.
Zareen spent a few months at Inspire Institute of Sport in JSW before winning the senior national championships last October. At the prestigious Strandja Memorial this year, she was on a hot streak and beat Tokyo Olympics silver medallist Cakiroglu Buse Naz of Turkey in the final. She then won back-to-back selection trials in New Delhi to make it to world championships and Asian Games team.
"She is a very big talent. She is a champion," said former India coach Rafaelle Bergamasco. "You could see in this tournament that she is very angry because she missed out on competitions and now she has the opportunity to be the No. 1 and she is fighting with a winner's mentality," said the Italian who spent a long time with Zareen at the national camp. Bergamasco quit after the Tokyo.
Jitpong was a good opponent but Zareen had beaten her in 2019 in Thailand. Zareen had good clean strikes in the first round and despite Jitpong getting a few hits back, the Indian took the first round 5-0. Jitpong bounced back in the second using her long reach to strike from a distance, her jabs landing flush on Zareen's face. The decider was tense but Zareen's clean strikes rattled Jitpong. She mixed it well with body shots and went hard in the final few seconds to emerge clear winner.
"What she missed was a world title," said her coach Emani Chiranjeevi "When she was fighting Mary Kom, she went up against a six-time world champion, a boxer of huge international stature. Despite that Zareen gave a confident display. In Istanbul, she has been bold; she has shown the courage to fight the best. Now nobody can say Nikhat Zareen is not a world champion," said the former national coach.
Topics
Close Story
Personalise your news feed. Follow trending topics