What's ailing Saurabh Chaudhary?
Jan 26, 2023 08:07 PM IST
The youngster, once hailed as India's brightest star, has failed to make India's Cairo and Bhopal World Cup-bound squads.
Seventeen months is a long time in sports. Back in August 2021, when Saurabh Chaudhary exited Tokyo Olympics as the lone bright spot in the 15-member contingent, few would have foreseen his struggles to make the senior team on a regular basis.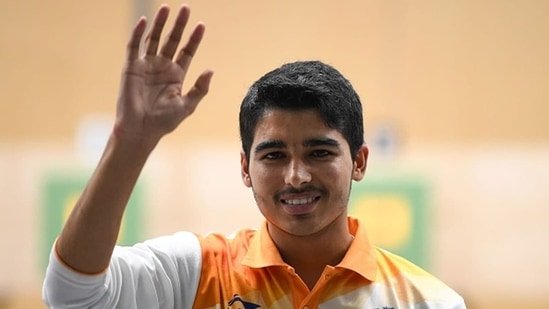 Sadly for Chaudhary, considered among the brightest shooters of his generation, the post-Tokyo period has been blighted with mental cobwebs and dwindling form. Those in the know of things claim the youngster didn't take the reversal at the Olympics too well and went into a spell of intense self-reflection. While fellow 10m pistol shooter Manu Bhaker, who had a far worse experience at the Olympics, recovered with a string of fine performances -- albeit in the 25m range -- Chaudhary retreated further into his shell.
Chaudhary's absence from India's Cairo and Bhopal World Cup-bound squads thus doesn't come as a big surprise. In the two trials (T1 and T2) that decided the team selection, an indifferent Chaudhary finished 34th in the first and skipped the second.
"It's not really a big deal. He couldn't shoot decent scores at the trials, but these things happen. He was down with a fever which was one of the factors behind his poor scores in T1. He had to skip T2 because he couldn't recover," national pistol coach Samresh Jung said.
"We are not really worried about his dip in form. Such phases come in every athlete's life. I am sure he will come out stronger," Jung added.
While the coach's optimism is understandable, Chaudhary's downward spiral has been quite steady. Soon after the Olympics, he had an ugly split with his longtime coach Amit Sheoran. The 20-year-old then failed to make the cut for last year's World Championships. In fact, Chaudhary has participated in only two international events since Tokyo -- ISSF World Cup in Cairo and ISSF Junior Cup in Suhl; his lone success in individual events came in Cairo where he struck gold.
At the national championships late last year, he finished outside the top-100 in qualifications in his pet 10m event with a score of 573. He even tried his hand at the 50m non-Olympic event, finishing a disappointing 22nd with a score of 548.
For Jung, the issues with Chaudhary are more mental than technical. "There is nothing wrong in his technique. We must not forget that he was the world No 1 not very long back. He was the only Indian shooter to make the final at the Olympics, and that too after finishing on top in the qualification. Just last year, he won gold in Cairo, which means the quality is still there. He tends to doubt his technique a bit, which is what we are trying to address."
Sheoran, who taught Chaudhary the basics of his sport, disagrees. "I can see at least 5-6 technical changes, right from the way he stands at the firing station to the way he takes aim. Earlier, he would stay like a lion, but now he looks scared. But it's not my place to comment on what he should or shouldn't be doing."
"All I can say is, sport has a weird way to get even. My doors for Saurabh are shut completely and forever. I am now focussed on grooming a fresh batch of pistol shooters," said Sheoran, whose ward Yuvika Tomar bagged silver medals at Cairo World Cup and Changwon World Championships last year in 10m team events.
Chaudhary, currently on a break for his brother's wedding, refused to comment on his form. Once back, he will be put through the grind in the 10m and 50m (non-Olympic) ranges again as Jung prepares him for a second successive Olympics.
"He has started shooting 50m to get better at the 10m. The degrees of errors in 50m are much finer than the 10m discipline. It's a much tougher discipline and if Saurabh shoots well in 50m, he will be lethal in his regular event. I trust a quality shooter like him to bounce back and make the cut for Paris Games," the 52-year-old said. With World Cups no longer offering quota places for the Olympics, bouncing back at continental and world championships will be a tall order for Chaudhary.
Enjoy unlimited digital access with HT Premium
Subscribe Now to continue reading