Rafael Nadal, Novak Djokovic and Roger Federer practice side by side at Wimbledon
Jul 08, 2018 08:10 PM IST
Rafael Nadal, Novak Djokovic and Roger Federer took part in a simultaneous practice session at Wimbledon on Sunday.
There may be no matches taking place on Wimbledon's middle Sunday, but there is still plenty of star quality on show at the All England Club.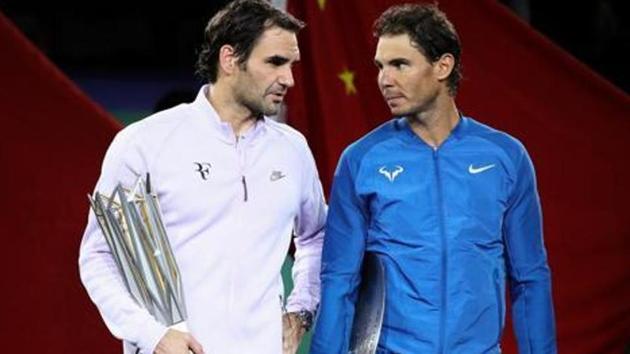 World number one Rafael Nadal took to the practice courts ahead of his last-16 tie with Jiri Vesely on Monday - and soon found himself in very familiar company.
A photo posted on Twitter by the Spaniard showed Novak Djokovic enjoying a hit beside Nadal, while eight-time Wimbledon champion Roger Federer completed a star-studded trio on the next court.
Nadal, Djokovic and Federer boast 49 grand slam singles titles between them and few would bet on that figure reaching 50 come next Sunday.
Nadal confident
Rafael Nadal, who has retained his top ranking by beating Australia's Alex de Minaur in the third round of the ongoing Wimbledon championship, said that he prefers to be number one rather than number two.
However, Nadal noted that rankings were not his priority.
READ | Angry Novak Djokovic critical of Wimbledon centre court hecklers
"Of course, I prefer to be No. 1 than No. 2, [there is] no doubt about this. But I really didn't come here to hold No. 1. I just came here to try to do the best tournament possible," he said.
The 32-year-old, who recently clinched his eleventh Roland Garros title in Paris, will next face Czech player Jiri Vesely to book his berth in the quarter-final of the Championship.