Serena Williams hopes daughter Alexis Olympia won't play tennis
Updated on Jul 10, 2018 09:51 AM IST
Asked whether she wants Alexis Olympia to follow her mother, Serena Williams said: "No, I would hope she doesn't play tennis. (But) Ice skating could be fun."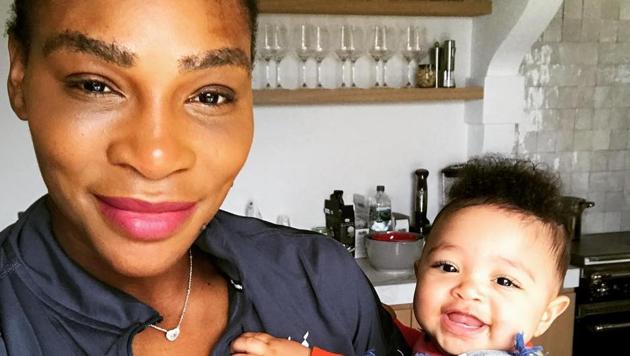 Serena Williams hopes her daughter Alexis Olympia does not want to follow in her mom's famous footsteps -- suggesting ice skating might be a good alternative.
The American took a step closer to a record-equalling 24 Grand Slam singles titles on Monday when she reached the quarter-finals at Wimbledon in only her fourth tournament since returning after giving birth last September.
Such was the ease with which she dispatched Russian qualifier Evgeniya Rodina 6-2, 6-2 in a 62-minute exhibition of power and grace that questions in her post-match news conference quickly turned to other subjects.
ALSO READ: Novak Djokovic beats fading light and Karen Khachanov to reach Wimbledon quarters
Asked whether she wanted Alexis to one day follow her mum or whether aunt Venus might be her coach, the seven-time Wimbledon champion said: "No, I would hope she doesn't play tennis.
"Venus said she would coach her, she just didn't want to travel. She said that, like, yesterday or the day before. I'll coach her, but I don't want to travel.
"I'm like, okay, you're thinking way far in advance. Olympia is not playing tennis, unless of course she wants to.
"I think it will be interesting to see what she gravitates to. I really don't know. Ice skating could be fun. She'll probably be really tall, so... Yeah, I don't know," she added.
ALSO READ: Rafael Nadal, Kevin Anderson march into Wimbledon quarter-finals
Williams and her sister were taught to play tennis by their father Richard who devoted his life to training them on the public courts of Los Angeles.
Serena said she doubted whether she would have the patience to do the same.
ALSO READ: Divij Sharan-Artem Sitak reaches Wimbledon men's doubles quarter-finals
"I don't understand how they did it. I could not go out, as much as I love (Alexis), I don't think I could do it every single day what my dad did. I don't think I could do that," she said. "Then what my mom did. I don't know. I actually would not be able to do that."
Williams said she would not want her daughter to have to grow up being compared to her mom.
"I don't want her to have pressure from what I did, you guys talking about, 'are you going to be able to do as good as your mom?' I don't want her to have that."
Close Story
Personalise your news feed. Follow trending topics