Serena Williams vs Venus Williams: Fiercest rivals, best friends await history
Updated on Jan 28, 2017 11:17 AM IST
Serena and Venus Williams will contest a Grand Slam final for the first time since 2009. There's a lot at stake because Serena's win will see her Major tally go up to 23 while Venus's triumph will see her win a Slam after 2008.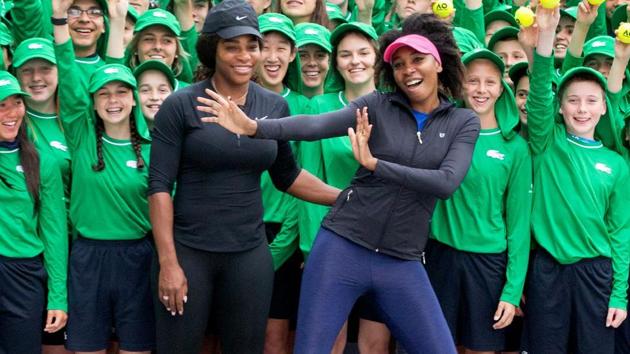 It's tough to pinpoint what exactly drives the Williams sisters. From ushering in an era of power tennis in the women's circuit, making winning Grand Slams individually and together look so easy, pocketing records at the drop of a hat, taking self-imposed breaks, fighting back from injury and medical complications to pursuing off court activities like fashion designing and dancing; there's no doubt how unique the sisters are in the world of commonality.
Read | Venus Williams stands between sister Serena and history
They are each other's fiercest rivals and toughest critics. But, they are also the best of friends. No matter what the outcome on Saturday at Melbourne, a Williams will win the trophy. The last time the Williams sisters played each other in a Grand Slam final was in 2009. Playing at Wimbledon, younger sister Serena beat Venus in straight sets for her 11th Grand Slam title.
A lot has changed since. Of the two, Serena has found better success in terms of sheer numbers.
If Serena wins
A win on Saturday will push the 35-year-old's Major tally to 23 – an Open Era record, surpassing Steffi Graf's 22. She will still be one shy of the all-time record held by Margaret Court.
A victory will also see her back at the top of the rankings displacing Germany's Angelique Kerber with her name appearing on the Daphne Akhurst Memorial Cup for the seventh time. It will be a unique achievement making Serena the most successful player in the Australia Open in the modern era and to win at least one Grand Slam in each of the past three decades (her first win came in the 1999 US Open).
If Venus wins
A win for Venus will be nothing short of a fairytale. Playing in the final of a Grand Slam after eight years, it's also the first time she's reached the summit clash at Melbourne since 2003 where her sister completed the 'Serena Slam'.
Venus is of course very successful, but in comparison to Serena, her achievements seem muted. A former world No 1 and seven-time Slam champion, she's struggled with health issues.
At one point, from late 2011-2014 she failed to advance to the fourth round of any Major with Sjogren's syndrome sapping up her strength and power.
A fightback
But she's fought back. Changing her training and diet to maintain longevity, she's inched her way back to the top 15. After a breakthrough quarterfinal showing at Melbourne in 2015, Venus reached the Wimbledon semis last year and now, at 36, is the oldest Australian Open finalist.
The sheer joy of beating young Coco Vandeweghe was evident as she showcased her dancing skills at the Rod Laver Arena backed by a thunderous applause.
Moment to remember
Serena leads 6-2 in their Grand Slam final meetings. But on Saturday evening, that won't matter. "This probably is the moment of our careers so far. I never lost hope of us being able to play each other in a final, although it was hard because we're usually on the same side of the draw," is how Serena put it.
Ask Venus and she reiterates, "When I'm playing on the court with her, I think I'm playing the best competitor in the game… It won't be an easy match. You have to control yourself then you also have to hopefully put your opponent in a box. This opponent is your sister, and she's super-awesome."
No matter which Williams wins, it will be a final fans will remember for ages – an ode to a fantastic throwback with many still finding it hard to believe the year is actually 2017!
Personalise your news feed. Follow trending topics