Wozniacki beats Osaka to win Pan Pacific Open, first title of the year
The 26-year-old Dane looked in trouble after losing her serve for the second time in the opening set but was almost unstoppable after receiving treatment on her upper thigh.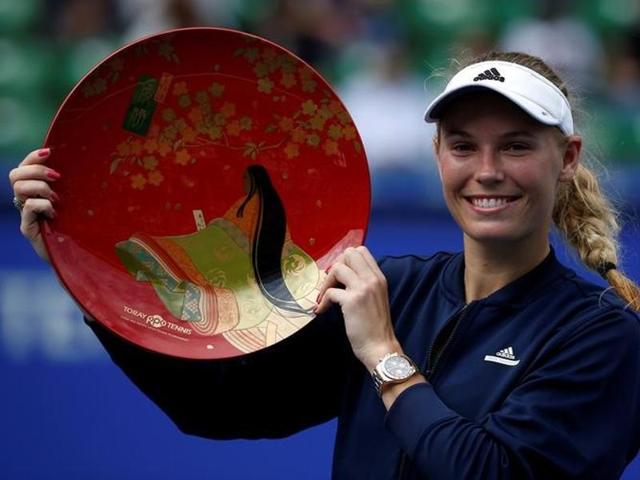 Updated on Sep 25, 2016 12:57 PM IST
Former world number one Caroline Wozniacki overpowered Japan's Naomi Osaka 7-5, 6-3 to capture the Pan Pacific Open on Sunday, her first tournament victory since February 2015.
The Dane, who has battled back from a wretched run of injuries this year, weathered an early storm from her teenage opponent before running out a comfortable winner, claiming a second Tokyo title and the 24th of her career.
"I'm very proud to win the tournament," Wozniacki told reporters.
"Somebody just told me I've won a tournament every year since 2008. That's a nice little streak and hopefully I can keep it going and keep moving forward."
Wozniacki, the Pan Pacific champion six years ago, survived a health scare after dropping serve to go down 4-3 in the first set.
After feeling a twinge in her left thigh, she left the court for treatment and returned with her leg heavily bandaged.
But it appeared to have little adverse effect as Wozniacki took complete control, ripping a fierce backhand down the line to take the set.
Wozniacki, who reached the US Open semi-finals earlier this month to signal her return to form, roared into a 5-0 lead in the second as Osaka's game unravelled in the Tokyo sunshine.
Playing with the roof open after a week of typhoon rains, Osaka paid for her youthful exuberance, her strategy of attempting to hit the fur off the ball on every shot backfiring badly against a vastly more experienced opponent.
The 18-year-old, who called a medical timeout of her own for a sore right shoulder after losing the first set, produced some spirited resistance to avoid the dreaded 'bagel', but it was too little too late.
Wozniacki completed victory with a crisp backhand which forced Osaka into yet another wild shot, giving the 26-year-old her first title since Kuala Lumpur last year.
"I hurt my groin a little bit in the first set, but I tried to stay aggressive and stay calm," said Wozniacki, who had seen her world ranking plunge to 74th after suffering wrist and ankle injuries.
"To be honest I was just trying to fight for every point. It was tough at the end but I was just happy to close it out."
The Dane is set to climb to 22 or 23 in the new rankings when they are released on Monday.
Osaka, born of a Japanese mother and Haitian father, will break into the top 50 after her fairytale run.
Close Story