Abhay Deol says people may even buy tickets to films so that they watch and criticise the film, or just 'hate-watch' it.

Published on Apr 27, 2023 02:28 PM IST
Why is Abhay Deol, who carried indie cinema through the 2000s, so quiet on the streaming scene? It's not about the money. The game's changed, he says. So has the meaning of courage

Updated on Apr 21, 2023 09:48 PM IST
Abhay Deol once called marriage 'not a natural phenomenon'. He also said that for him it is 'just outdated'. Abhay clocked his 47th birthday on Wednesday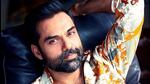 Updated on Mar 15, 2023 02:30 PM IST
After Sushant Singh Rajput's death in 2020, Anurag Kashyap said he had called up Abhay Deol after not speaking to him for years, when he started reconnecting with people he had lost touch with.


Published on Feb 01, 2023 12:48 PM IST
Abhay Deol and Anurag Kashyap, who worked together in the 2009 film Dev D, have been speaking about each other in recent interviews. Days after Abhay called Anurag a 'liar' and a 'toxic person', the actor revealed in a chat with Anupam Kher that Anurag 'didn't direct him at all' in Dev D.


Published on Jan 29, 2023 10:46 AM IST