Bhupesh Baghel travelled to Janjgiri and Kumhari Basti to carry out these annual rituals where Lord Shiv and Goddess Parvati are worshipped.

Published on Oct 25, 2022 02:46 PM IST
The Home Minister outlined government's commitment to "uproot the left-wing extremism", and said that there has been a decline of incidents of extremism by 77 per cent in 2021 since 2014.

Updated on Aug 27, 2022 08:34 PM IST
Under 'Har Ghar Tiranga' campaign, Chattisgarh government engages women SHG's in making tricolours.

Updated on Aug 04, 2022 11:50 AM IST
Here are today's top news, analysis and opinion. Know all about the latest news and other news updates from Hindustan Times.

Published on Jul 16, 2022 08:54 PM IST
The searches, which were being conducted by income tax officials requisitioned from outside Chhattisgarh, began at around 6am, people aware of the development said.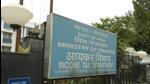 Updated on Jul 01, 2022 01:05 AM IST