Green Card: The official said that the annual limit is established by the US Congress on family-sponsored preference green cards.

Updated on May 19, 2023 12:54 PM IST
US Green Cards: The House of Representatives is scheduled to vote on the Equal Access to Green Cards for Legal Employment (EAGLE) Act of 2022.

Updated on Dec 09, 2022 11:16 AM IST
Green Card: Under the bill, an immigrant may qualify for lawful permanent resident status if they have lived in the US continuously for at least seven years.

Published on Sep 29, 2022 12:32 PM IST
US Green Card: The commission's recommendations on the green card include reducing the adjudication and processing time for the applications to just six months.

Published on Sep 24, 2022 10:40 AM IST
The accused convinced the man that his daughter would get a permanent work permit after receiving permanent resident status in the US.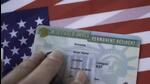 Updated on Sep 16, 2022 10:02 PM IST
The closure of immigration offices during the pandemic, along with restrictions imposed by the Trump administration, caused the number of family-preference green cards to plunge in 2020.

Updated on Oct 14, 2021 07:22 PM IST
Bloomberg |
, Hindustan Times, New Delhi