The launch of the earth observation satellite EOS-03 aboard the Geostationary Launch Vehicle (GSLV F-10) failed on August 13 after the third stage of the rocket did not ignite due to a "technical anomaly," the space agency said at the time.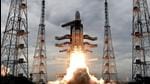 The 51.70-metre tall rocket lifted off as planned at 05.43am, and its performance in the first and second stages was normal, Isro said. But minutes after the launch, the space agency said there the engines failed to ignite in the cryogenic stage.

GISAT-1 is slated to be lofted into space by GSLV-F10 rocket from Sriharikota spaceport in Andhra Pradesh's Nellore district, about 100 kms north of Chennai.