Speaking at a "youth townhall" with Punjab chief minister Bhagwant Mann by his side, AAP supremo and Delhi CM Arvind Kejriwal said it was young people who would fuel the campaign.

Updated on Sep 08, 2022 01:42 AM IST
The banned group also wrote 'Khalistan zindabad' in Punjabi on a wall near the railway line.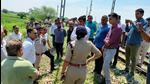 Updated on Jul 17, 2022 05:02 AM IST
The protest took a violent turn when farmers tried to take over the railway track and started a march towards the power plant i Hisar; 4, including 3 cops, were injured in the violence.

Updated on Jul 09, 2022 01:12 AM IST
The deceased were identified by police as Surender Kumar (28), Mahender Singh (25) and Rajesh (26) of Budha Khera village and Rahul Kumar (27) of Hassangarh village in the district.


Published on Apr 20, 2022 12:36 AM IST
The protest call has been given over FIRs registered against more than 300 farmers for a clash earlier this month with the police.

Published on May 24, 2021 07:30 AM IST