Latest from jagdeep dhankar
The timing of the meeting generated considerable curiosity. Hours later, assembly speaker Biman Banerjee said the timing of the meeting was a typo and the governor could have ignored it.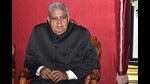 Updated on Feb 25, 2022 04:09 AM IST
At least 16 people, mainly from the Bharatiya Janata Party (BJP) and the Trinamool Congress (TMC), have been killed in post-poll violence in West Bengal.

Published on May 12, 2021 08:36 PM IST
"BJP leaders are roaming around, they are provoking. They are actually not ready to accept the mandate," West Bengal chief minister Mamata Banerjee said.


Updated on May 07, 2021 12:57 AM IST
A case of negligence under Section 304A of the Indian Penal Code was lodged and Kolkata police started a probe. The fire department and the railways ordered separate probes into the incident.


Updated on Mar 10, 2021 02:07 AM IST