According to footage aired on several Pakistan TV channels, vehicles suffered damages due to the blast.
Explosive material was planted in the carrier of the bicycle which was detonated using a time device, according to the Bomb Disposal Squad (BDS).

Karachi university blast: Four people were killed on April 26 after a suicide bomb attack on the premises of Karachi University.

The attack was carried out by BLA's first woman suicide bomber. The Pakistan government condemned the bombing and made a pledge to China, the country's close ally, that the perpetrators will be punished.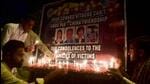 The explosion triggered by Shari Baloch ripped through a van of the Confucius Institute at the University of Karachi, leaving three Chinese teachers dead and one injured and causing several Pakistani casualties.