Latest from machine learning
The time to act is now. It is in our collective interest that digital health technologies are targeted to those countries and populations that are furthest behind.

Published on Mar 24, 2023 07:27 PM IST
We need a shift from knowing to learning because google knows everything; Performance metrics must shift from inputs to outcomes.


Tata Consultancy Services (TCS) and Deakin University's corporate learning and development division, DeakinCo. have come together to co-develop a corporate learning program for business leaders and decision makers.

Published on May 26, 2022 10:59 PM IST
Amazon India announces launch of an integrated learning programme for students to learn applied Machine Learning (ML) skills...


Published on Jun 13, 2021 05:43 PM IST
In today's day and age, EQ has become more important than IQ, writes Anuradha Sharma, Principal, Ryan International School, Vasant Kunj.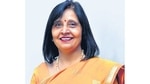 Published on Mar 12, 2021 09:44 PM IST