Earlier in the day, Shiv Sena MP Sanjay Raut had attacked Thackeray asking in which BJP-ruled states were Azaan stopped and loudspeakers removed from the mosques.

Written by Kanishka Singharia | Edited by Aryan Prakash
In Maharashtra, 3,375 patients were discharged today. The overall recovery rate in the state is stable at 98%

Here are today's top news, analysis, and opinion at 5pm . Know all about the latest news and other news updates from Hindustan Times.

In its order, the bench noted that it was for the respective state backward commissions to examine the data on OBCs as submitted by states and UTs, and then take a suitable view.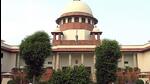 On December 15, the Supreme Court had directed the state poll panel to notify 27 per cent seats in the local bodies, which were earlier reserved for OBCs, as general category seats.