Polling for the 182-member Gujarat legislative assembly will be held in two phases on December 1 and 5 while the counting of votes will be done on December 8.

Updated on Nov 13, 2022 01:21 AM IST
Punjab elections: Apart from 75% job quota to Punjab youth, BJP manifesto also promises 35% reservation for women in all government jobs, including contractual ones.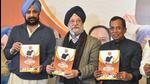 Updated on Feb 13, 2022 03:04 AM IST
The manifesto promised a minimum support price (MSP) of ₹2,500 per quintal for wheat and paddy, and ₹400 per quintal price for sugarcane.

Published on Feb 10, 2022 05:57 AM IST
The children will meet Chief Minister Sarbananda Sonowal on November 20 on the occasion of World Children's Day and hand over their manifesto to him.

Published on Nov 18, 2020 11:08 PM IST
Unmindful of the political propaganda based on caste and religion, many voters their vote will be propelled by the development in their local area

Published on Mar 12, 2019 09:25 AM IST