Latest from market capitalisation
Only Reliance Industries Ltd and Infosys took losses in their market capitalisation for the week closed on Friday.

Published on May 09, 2021 10:52 AM IST
Only Tata Consultancy Services (TCS), Hindustan Unilever Limited and HDFC from the top-10 list saw a rise in their market capitalisation.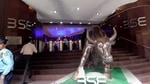 Published on Mar 28, 2021 11:22 AM IST
Different from the US market where circuit breakers can halt trading in certain individual stocks for several minutes after extreme moves, India utilises an elaborate six-stage system that takes into account a company's fundamentals, not just stock volatility.

Published on Feb 10, 2021 02:39 PM IST