Bollywood star and Punjab Kings co-owner Preity Zinta praised Mumbai Indians contingent for following Covid-19 protocols during the IPL auction and also complimented owner Nita Ambani.
On his Netflix stand-up special Kapil Sharma: I'm Not Done Yet, the comedian spoke about the time he had to perform for the Mumbai Indians and how the jokes just did not land.
Addressing the shareholders at Reliance Industries' 44th AGM, Nita Ambani highlighted the company's philanthropic efforts, including the production of medical-grade industrial oxygen during the pandemic.
Reliance Industries Limited's Covid-19 vaccination programme, R-Surakshaa, will be effective from May 1.

Written by Prashasti Singh
, Hindustan Times, New Delhi
A company spokesperson said that the reports were fake and "no proposal or invitation to make her a visiting lecturer of BHU has been received".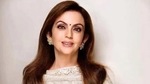 Written by Prashasti Singh
, Hindustan Times, New Delhi