As per initial information, one of the residents had a wedding at their flat, situated on the fourth floor of the building where the fire apparently started. However, no confirmed reports of the cause of fire have been ascertained yet.

Updated on Jan 31, 2023 10:44 PM IST
In its RTI reply to advocate Satya Prakash, the Union ministry of environment, forest and climate stated that 462 people have died in man-elephant conflicts in a span of five years since 2017, 133 alone in the last fiscal.


Published on Jan 30, 2023 04:33 PM IST
The new facility has an improved ILS Localizer Antenna System that will help in the precision approach of all aircraft landing at the airport in all weather conditions.


Published on Jan 16, 2023 05:04 PM IST
ANI | | Posted by Yagya Sharma
The Jain community has been protesting against the Jharkhand government's tourism policy, which intended to develop Sammed Shikharji in Parasnath hills, among other places in the state, as a tourist destination.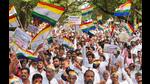 Updated on Jan 07, 2023 04:53 AM IST
The top court, which has now listed the suspended IAS officer's plea for hearing on February 6, has imposed some conditions, including that she will not visit Ranchi unless a court case is listed for hearing in the city.


Published on Jan 03, 2023 01:14 PM IST
PTI | | Posted by Nisha Anand