Latest from repeal of farm law
However, the minister later clarified that the Centre has no plan to reintroduce farm laws adding that his statement during a programme was misquoted.

The Singhu and Ghazipur border points of the national capital—two of the sites where the farmers had been protesting for the past 14 months—have picked up activity, as farmers get busy completing their preparations to leave for their homes in trucks and tractor trolleys.

Written by Joydeep Bose | Edited by Meenakshi Ray
, Hindustan Times, New Delhi
Kurukshetra's Gurnam Singh Charuni , among the top SKM leaders, said that the agitation has only been suspended and may resume if the demands of farmers are not fulfilled

The Samyukt Kisan Morcha in its address on Thursday said farmers will start retreating from Delhi's border points of Singhu, Tikri and Ghazipur from 9 am on December 11.
The compromise between the Centre and protesting farm unions came after two days of back-channel negotiations that saw proposals being sent back and forth, and 11 rounds of tenuous negotiations that hit a deadlock on January 22, 2021.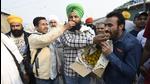 By
Zia Haq
, Hindustan Times, New Delhi