Latest from shivaji maharaj
Maharashtra Congress has demanded the resignation of state tourism minister Mangal Prabhat Lodha over his comparison of chief minister Eknath Shinde with Chhatrapati Shivaji Maharaj.


Updated on Dec 01, 2022 04:21 PM IST
Maharashtra Governor Bhagat Singh Koshyari triggered a row on Saturday when he remarked that Shivaji Maharaj has become an "old idol" and the new ones can be found in Babasaheb Ambedkar and Union minister Nitin Gadkari.

Updated on Nov 20, 2022 09:07 PM IST
A spokesperson for the Uddhav Thackeray faction of the Shiv Sena condemned the governor's statement saying he is known to disrespect great leaders.

Published on Nov 19, 2022 07:02 PM IST
At least 12 films on the life of the 17th century Maratha hero, Chhatrapati Shivaji Maharaj, are in the works in several of Mumbai's dream factories. Marathi film trade experts assess that over ₹120 crore is riding on the warrior king.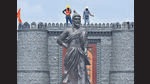 Updated on Nov 15, 2022 11:57 AM IST
Here are today's top news, analysis, and opinion. Know all about the latest news and other news updates from Hindustan Times.


Updated on Nov 11, 2022 01:10 PM IST