The two countries are "negotiating a more comprehensive agreement on goods and services, which may also include movement of skilled and agricultural labourers to the continent".

China is Russia's biggest source of imports and sold $12.6 billion of goods to Russia just in January and February.

Roadways, transport workers and electricity workers have decided to join the strike in spite of the threat of the Essential Services Maintenance Act.

The two partners detailed the areas that would be covered under the early harvest trade deal. The broad areas include goods, services, investment, energy, logistics, standards, rules of origin, and sanitary and phytosanitary measures.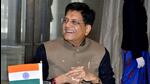 According to figures released by the US Census Bureau, India-US bilateral goods trade was worth $113.391 billion from January to December 2021. India exported goods worth over $73 billion, and imported goods worth a little over $40 billion dollars.