Latest from yamuna expressway
Information was received that the bag was kept on the service road near the Agricultural Research Centre in Raya and it was seized in the afternoon.


Published on Nov 18, 2022 06:54 PM IST
Toll rates increased by 5 paise to ₹3.25 per kilometre depending on the vehicle used.


Published on Aug 25, 2022 10:28 AM IST
Two other people who were along with the deceased in an SUV have been hospitalised with injuries after the 5 am road crash, the police said.


Published on May 12, 2022 01:45 PM IST
With an aim to prevent vehicles from overspeeding on the Yamuna Expressway and curb accidents, the Yamuna Expressway Industrial Development Authority (Yeida) has reduced the speed limit for light vehicles to 80 kilometre per hour (kmph) from 100 kmph due to low visibility during the winter season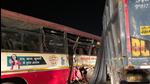 Updated on Dec 17, 2021 03:48 AM IST
The announcement is expected to be made by PM Modi when he lays the foundation for Jewar airport on November 25, reported Livehindustan. The airport is a key infrastructure project of the Yogi Adityanath government in the state.


Published on Nov 23, 2021 10:15 AM IST