Too many vacation photos on your phone? These apps and hacks will help you manage
A study from the data scientists at InfoTrends shows that globally, people take more than 1.2 trillion images per year, a number that has been rising by 100 billion annually since the debut of the iPhone5. Vacation photos, no doubt, make up a big chunk of that sum.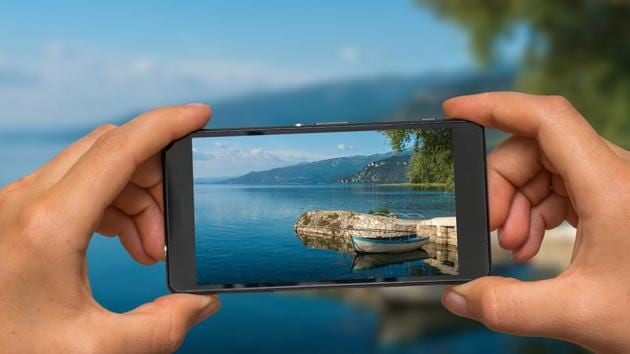 Updated on Apr 08, 2018 09:01 AM IST
Bloomberg | By Nikki Ekstein
The day the camera roll on my phone hit 50,000 images, I knew I had a problem. I, like so many people I know, take way too many pictures. If I took the time to properly sort and organise them, I could tell you whether or not I have more than 5,000 photos of my Bernese Mountain Dog (my guess is yes), or whether I've photographed the sun setting behind One World Trade from my Brooklyn, N.Y., living room on more than 100 separate occasions (my hope is no).
And that's saying nothing of my endless reel of travel snaps, which obsessively document everything from rooftop bars to intricate mosaic floors to random room service receipts. (Call it a hazard of the job.) I may be unique in the extent of my compulsive photo-taking habit, but I know I'm not alone in struggling to manage the thousands of shots I take each year. A study from the data scientists at InfoTrends shows that globally, people take more than 1.2 trillion images per year, a number that has been rising by 100 billion annually since the debut of the iPhone5. Vacation photos, no doubt, make up a big chunk of that sum.
With that in mind, here are the biggest pain points of a sprawling camera roll and how to best manage them. They're solutions that I've started to integrate into my own life—and, though any solution requires commitment when your mountain of mementos is as big as mine, I can promise that they're all easy, user-friendly, and well worth an occasional investment of time.
I can't find the photos I'm looking for!
The native apps on both iPhone and Android, Photos and Google Photos, do a stand-up job of making your photo catalog searchable. Apple's best feature plots your images on a map of the world so you can search by "place," which is helpful for itinerants such as myself. It lets me see multiple Paris trips in one folder, for instance, rather than scrolling chronologically through several visits to find the one picture of the Trocadero gardens in bloom.
But I far prefer Google's search function, which lets you search images by keywords that can range from "Eiffel Tower" to "flowers" to the name of your partner or best friend. It's not perfect, but it comes close, thanks to an AI platform that blends facial recognition and GPS data. (Android users can't download the Apple Photos app, but Google Photos is available across all platforms.)
A services such as Adobe Lightroom Premium ($4.99 per month) take the Google search terms one step further. It lets you add customized tags and metadata of your own choosing to the apps' automatically assigned keyword tags. If you want to sort images into separate folders for African landscapes, African sunsets, African elephants, and Asian elephants, for instance, you can do so with a click of the "add to" button, which lets you access all the folders you've already created, or quickly add new ones. A free alternative is SmugMug, which doesn't attempt to sort your photos for you, but it does offer one of the easiest-to-use interfaces for cataloguing your images. If you're working with large batches of vacation photos, the app conveniently lets you select entire days' worth of images at once and move them wholesale into new or existing albums.
I'm running out of storage!
If you use your mobile camera to take pictures of to-do lists and stay on top of loose receipts, as I do, you're likely to end up with a lot of extraneous junk taking up your precious storage space.
For those with traditional cameras and SD cards, external hard drives can be a life saver—if you choose the right one. The WD My Passport Wireless Pro drive (from $150) has up to 4TB of storage space, and offers nearly instantaneous backup when you pop your SD card into the corresponding slot. Thanks to built-in Wi-Fi, the images can also get synced to a proprietary cloud storage app for quick mobile access and social sharing. And, as the name implies, the whole thing is barely larger than your actual passport, making it easy to tote around in a carry-on.
There's too much clutter in my camera roll!
Right there with you. My husband loves to make fun of me for taking every photo five or six times. That's where Zyl comes in. The app recognizes duplicate images and automatically pinpoints the straightest, sharpest, best-lit shot in the bunch. Each set of images shows up on a unique "card" with a green-starred recommendation for the image to keep; simply press "delete" to get rid of the rest.
… But I'm nervous about deleting images!
Try Slidebox instead. The app lets you scroll through recent images the way you might scroll through eligible partners on Tinder. Swipe left and right to navigate through your files, and swipe up when you want to put a photo on the chopping block. It'll live in a separate folder, in purgatory, until you decide whether you can truly live without it.
It's my go-to source when I'm mining memory lane for a Throwback Thursday Instagram shot.
I never actually look at my photos!
It's time to get them off your phone and into your hands. There's a wide variety of apps to help in this regard, but our hands-down favorite is AU Mobile, an app by the photo printing studio Artifact Uprising. It lets you transform your snaps into especially luxurious-feeling products: hard-covered albums with titles embossed in gold, calendar pages propped on a brass easel, or prints in minimalist frames, to name a few. And for more everyday sharing, it also lets you create one-off prints to gift to family and friends, all on high-quality, post-consumer-waste paper.
If you want to spend as little time as possible choosing images and layouts, though, Google Photos creates fully automated photo books that get mailed to your front door. It's literally four clicks from the app's home page to check out: Hit "assistant," then "photo book," and select the trip you want to turn into an album. The book's pages will get pre-populated with images that Google has deemed to be of high enough quality or that you've shown an interest in previously—either by editing or sharing them on social channels. (You can tweak them as you wish.) All that's left for you to do is choose between a soft or hard cover before clicking the shopping cart button.
I really just want one app to manage everything.
If you're really only going to take one thing away from this, let it be that Google Photos is a surprisingly adept tool. Don't get me wrong, the app has some key flaws: I always wish it would let me "favorite" photos for easy retrieval, the way Apple does, or that I could easily commission prints of single images with the tap of a button.
That aside, it's the most versatile photo app on the market today. It's highly searchable, automatically backs up to the cloud (often for free, or very close to it), and is loaded with AI features that help you make the most of your gallery.
Close Story