When in Chennai, pamper your palette with mango and dimsum magic
The unusual combo of tangy mango dishes and sloppiness of dimsums promises a riot of flavours in this food festival.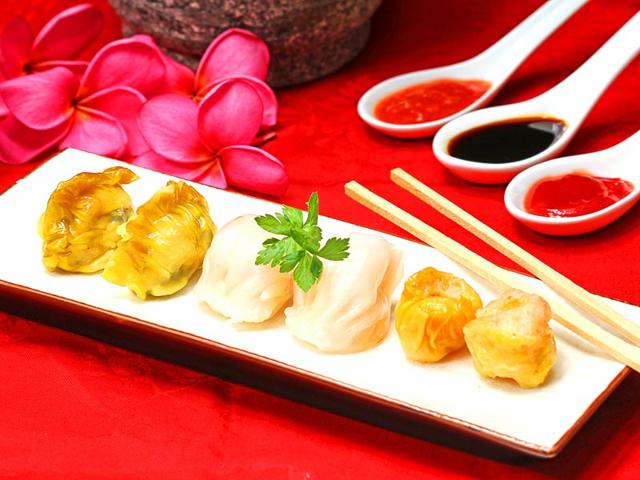 Updated on May 27, 2015 06:34 PM IST
Venkatachari Jagannathan Venkatachari Jagannathan Venkatachari Jagannathan Venkatachari Jagannathan Venkatachari Jagannathan
One would never have thought that a range of dimsums followed by grilled items and a main course with mango as a key ingredient would result in a satisfied burp!

However, that is what one can experience at Taj group's The Gateway Hotel IT Expressway in the Old Mahabalipuram Road (OMR).

While the dimsum, soups and grills festival is held at the hotel's Chinese restaurant Sian, the mango dishes are offered at the Buzz all-day diner.

"In both the festivals we have made several changes in the menu," executive chef Meril Antony Aricatt told IANS. "We found that grilled items were moving fast. We thought these would go well with dim sums and soups and added them to the menu this year," Aricatt said, while placing a bowl of seafood coriander thick soup.

The talk turned into the changing role of a star hotel chef. "An executive chef combines the functions of a mini-CEO (responsible for the restaurants and other spheres of activities relating to food and beverages), a human resources manager, a motivational speaker, a guest relation manager - but he should also be a team player," Aricatt said. "The ability to cook good food is now taken for granted," he added.

By this time, the dimsums started arriving at the table. Dimsums are steamed small-sized dumplings and generally come in four avatars - open faced, half moon shaped, bow shaped and pan fried. The stuffing could be vegetarian or non-vegetarian, Aricatt said.

"We make our dimsums with a mix of potato and corn starch. In some restaurants, dimsums (if part of buffet) come with a maida covering, but if they are ordered a la carte then different flours are used," he said.

For vegetarians, broccoli and corn chingkao, golden garlic spinach dumpling, corn and water chestnut dumpling and szechwan vegetable bao are on offer. These can be taken with different dips, but mustard sauce and a spring onion dip are recommended.

According to Aricatt, getting and retaining good talent has become difficult, though aspirants always want to be associated with a good brand like the Taj. Youngsters look at TV shows and think that cooking is a glamorous job. They do not realise that celebrity chefs who come on television have done hard work in their earlier years. "I have a team of 50 people and the attrition is around 15 percent lower than many other properties in the city," he claimed.

Queried about the growth prospects for a chef, Aricatt said that there is no growth without mobility.

On the grills side, the vegetarian items are tofu, broccoli and zucchini in spicy hoisin sauce with soft noodles; shitake mushroom, zucchini and eggplant with teriyaki sauce and grilled cottage cheese steak with soya chilli ginger.

The non-vegetarians have a choice of tomato egg drop soup or chicken coriander clear soup or chicken sour and pepper soup.
The dimsum range consists of chicken and lemon grass dumpling; curried chicken bao; tenderloin chives chingkao and prawn hargao to be gobbled up with or without any dips.

Non-vegetarians can opt for various grills - char-grilled chicken skewers with teriyaki sauce or the Korean barbeque grilled chicken and seafood lovers can opt for grilled prawns with wasabi mayonnaise or snapper fillet served with hint of ginger and mustard dip.

It was time to devour the main course - the dishes made with mango.

A cold soup - ginger spiced mango and apple soup with olive mango tapenade crostini - preceded the main course. For non-vegans, the karimurgh (though not a very spicy chicken dish giving out a raw mango taste) goes well with a tandoori roti. Similarly, vegans and non-vegans can relish the baked cannelloni with wilted spinach and ripened mango, cherry tomato confit and parmesan crust.

The sweet tooth can go for mango misu (mascarpone cream, cat's tongue, blueberry compote); fresh mangoes with ice cream (the coconut flavoured ice cream should not be missed out) or the mango rasmalai.

FAQs:

* Where: The Gateway Hotel, IT Expressway Chennai, on the Old Mahabalipuram Road (OMR) around 20 km from Chennai

* The soups, dimsums and grills at an average would cost Rs.1,400 (veg) and Rs.1,600 (non-veg) for two at Sian.

* The mango mania food festival at Buzz would cost around Rs.1,600 for two.

* The festival dishes are available for lunch and dinner at both the restaurants till May 31.
Close Story
Personalise your news feed. Follow trending topics