Grandma starts her knitting business at 78 along with her granddaughter in Delhi
Published on Jun 07, 2022 02:58 PM IST
The grandmother started her knitting business at 78 along with her granddaughter in Delhi.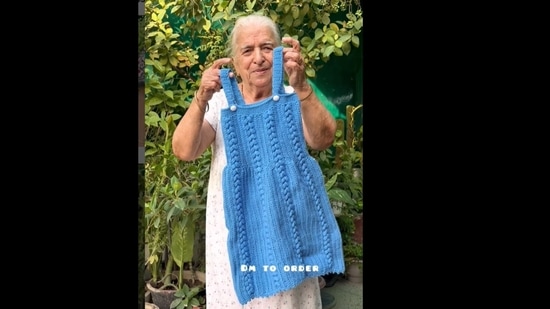 You may have heard many times that age is just a number and it's never too late to start doing something new in life. Well, this grandmother proves the adage true as she started a small knitting business along with her granddaughter in Delhi at the age of 78.
The duo has a page on Instagram called caughtcrafthanded that has more than 37,000 followers. Videos of the elderly woman named Sheela Bajaj showing her creations are regularly posted on Instagram. And the videos are adorable to watch.
The granddaughter, Yukti Bajaj, 27, while talking to Hindustan Times shared how the idea of starting the page came to her during the lockdown in 2020. "I have always seen my grandma knitting clothes for us since childhood. She is fond of knitting sweaters and socks for us and even the neighbourhood kids. So, during the lockdown I got the idea of creating an Instagram page to showcase the designs that she knits," she said.
The Instagram page soon grew in popularity and today they have a team of six to seven women who help her grandmother in completing the orders. "We have formed a community of women now who help my grandmother. We make something for all age groups such as toys for toddlers, bags, mufflers, sweaters, gloves and home décor items such as coasters and dream catchers. The price range starts from ₹100 for a head band and goes up to ₹5,000," Yukti told Hindustan Times.
Sharing more about her grandma, Yukti said she is very happy after starting her small business and became really confident after people started praising her. Recalling a sweet incident, she said once a girl from North Delhi came all the way to her home in West Delhi just to meet her grandmom. While Yukti works for Accenture, her grandmom is now quite independent with her small business.
Yukti had lost her father when she was a child and she was raised by her mother and grandmother in their West Delhi home. Her mother also passed away a few years back and now she lives alone with her grandma while her brother is a student in Canada.
What are your thoughts on this grandmom-granddaughter duo?
Personalise your news feed. Follow trending topics