IPS officer posts video of kid playing baseball with pet dog, shares sweet caption
Jan 23, 2023 08:01 PM IST
The video shared by IPS Dipanshu Kabra captures a kid playing baseball with his pet dog.
IPS officer Dipanshu Kabra took to his official Twitter handle a few hours ago to share an adorable video of a kid playing baseball with a dog. He also posted a caption with the video to convey a compelling message on living life to the fullest. The post has struck a chord with netizens and is leaving them with thoughts. It may have the same effect on you.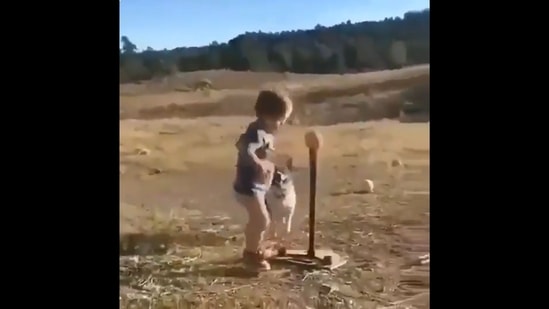 "We don't need big gangs to enjoy life, just 1-2 true buddies are more than enough," wrote IPS Dipanshu Kabra while sharing the video. The video opens to show the kid mounting the ball on a stand and hitting it with full force using a baseball bat. It then progresses to show the kid's pet pooch running after the ball and later fetching it.
Watch the video below:
Since being shared a few hours ago, the tweet has accumulated more than 14,400 views and the numbers are still increasing. The share has also collected over 300 likes and several responses.
Here's how people reacted to the video:
"Nice," posted an individual. "Just chill," shared another. "Adorable," commented a third with heart emoticons. A few also reacted with love-struck emojis.