Kids perform song their parents wrote, people are in love with their performance. Watch
Jan 26, 2023 08:16 PM IST
The viral Instagram video captures kids performing a song written by their parents, and it is too good to miss out on.
A video of a group of kids performing a song written by their parents has won people's hearts. Shared on Instagram, the video shows the kids singing a song called "My stupid heart." There's a chance that their performance will leave you impressed.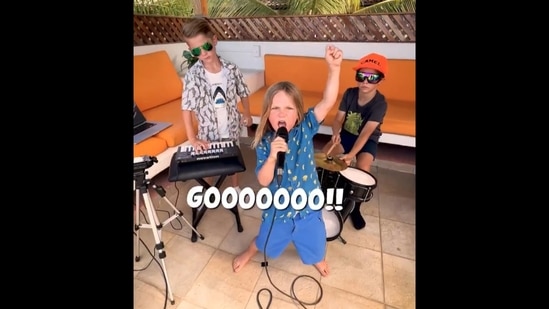 The video is posted on the Instagram page of a band called Walk off the Earth. "Our boys have been obsessed with our new song 'My Stupid Heart' and wanted to perform it for our Insta peeps! What should their band name be?!" they wrote while posting the video. The clip shows one of the kids playing a keyboard, another playing drums and the third one singing.
Take a look at the video:
The video was shared a few days ago. Since being posted, the clip has gone viral. Till now, it has accumulated more than 19.6 million views, and the numbers are only increasing. Additionally, it has also received several likes and comments.
Here's how Instagram users reacted:
"This is amazing!!!!" commented an Instagram user. "I love this soo much omg so cute ," shared another. "Cooooolest boys," expressed a third. "How many people can see that these kids are natural rock stars?" asked a fourth. "So adorable and sounds soooo good!!" wrote a fifth.
Topics